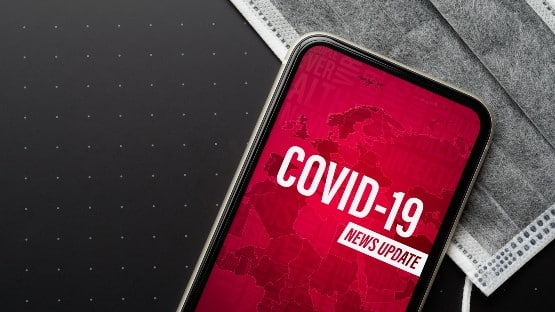 Legislation has been reintroduced today to help people living with long-term COVID-19 symptoms by improving research and providing resources for people with Long COVID.
U.S. Representatives Don Beyer (D-VA) and Jack Bergman (R-MN) today reintroduced the Comprehensive Access to Resources and Education (CARE) For Long COVID Act. Senate companion legislation was introduced this week by Senators Tim Kaine (D-VA), Ed Markey (D-MA) and Tammy Duckworth (D-IL).
"Our bill would take key steps to help millions of Americans suffering from Long COVID, many of whom still are not receiving the support they need," said Beyer. "The CARE For Long COVID Act would boost research and data sharing to identify and disseminate causes and, we hope, effective treatments. It is important to build on the research Congress has already funded and do all we can to address this enormous public health problem."
Bergman said the legislations will foster the research and provide the resources necessary to help those living with the effects of Long COVID.
"Those who have Long COVID deserve proper care, transparency, and understanding of the virus and its long term effects," said Bergman.
Long COVID or post-COVID conditions are a wide range of new, returning or ongoing health problems that people experience after being infected with the virus that causes COVID-19. These symptoms range from mild to debilitating and can last for months and even years.
The Centers for Disease Control and Prevention indicates that more than 53 percent of adults in the U.S. report having had COVID-19, with 28 percent of adults who had COVID-19 experiencing some form of Long COVID.
In Virginia, nearly 53 percent of adults report ever having had COVID-19, with over 27 percent of adult Virginians who had COVID-19 experiencing some form Long COVID.
Currently, 5.8 percent of Americans and 5.5 percent of Virginians have Long COVID.
"While my own Long COVID case is mild, I'm determined to highlight the experiences of many Virginians who are living with debilitating symptoms," said Kaine. "I've heard from Virginians whose Long COVID is so bad they were forced to leave the workforce or struggle to take care of their families. And to make matters worse, so many Virginians and people across the country are not believed when they seek care for this condition.
"It's clear that much more needs to be done to support Americans with Long COVID – from improving research to connecting patients with resources – and the CARE for Long COVID Act does just that."
To help those Americans, the CARE for Long COVID Act would:
Accelerate Long COVID research by authorizing the Secretary of the Department of Health and Human Services, in coordination with the Patient-Centered Outcomes Research Institute, to centralize and synthesize robust data-sets regarding patient experiences with Long COVID and related conditions for future research
Improve understanding of Long COVID treatment efficacy and disparities by authorizing HHS to study the health care system's response to Long COVID and provide recommendations for how to improve that response
Educate Long COVID patients and medical providers through efforts at the CDC to develop and disseminate information on common symptoms and treatment for Long COVID and related conditions
Facilitate interagency coordination to educate the public, including employers and schools, on the impact of Long COVID and the rights associated with employment, disability status, and education for individuals with Long COVID
Develop partnerships between community-based organizations, social service providers, and legal assistance providers to help individuals with Long COVID access needed services
The bill text can be found here.