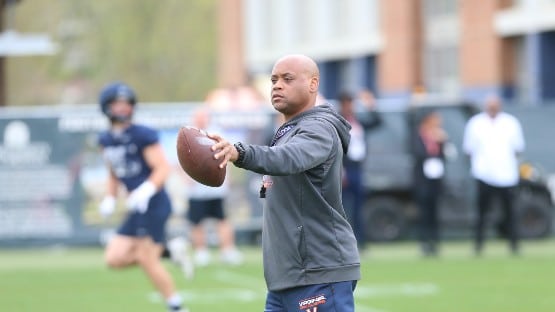 Tony Elliott's interest in Des Kitchings as a possible staffer started with Kitchings' run at NC State, Virginia's opponent on Friday night in both teams' 2023 ACC opener.
"When you go back and you look at NC State over those years, they would always have a 1,000-yard rusher, they would always have a 1,000-yard receiver and a 3,000-yard passer. They were really good on offense. I know most of those years he may not have been the coordinator, but he contributed, but he coached some really, really good running backs," Elliott told reporters at his Tuesday press conference.
Kitchings was, indeed, the offensive coordinator for just one of his years at NC State, in 2019, his final year there.
The State offense that year ranked 107th nationally in scoring (22.1 points per game) and 88th in total offense (380.5 yards per game) as the Pack stumbled to a 4-8 finish.
That led to State head coach Dave Doeren firing Kitchings at the end of the 2019 season, his eighth on the staff with the program, dating back to the head-coaching tenure of Tom O'Brien, a former assistant under George Welsh at Virginia back in the day.
Elliott said his relationship with Kitchings dates back to Furman, where each served as assistants – Kitchings as the tight ends coach and special teams coordinator from 2004-2007, Elliott as the wide receivers coach from 2008-2010.
The two later crossed paths when they both reached the ACC as position coaches. Kitchings was hired by O'Brien at NC State in 2012, after his other one-year run as an offensive coordinator, at Vanderbilt, in 2010.
The 2010 Vandy offense ranked 112th nationally in scoring (16.9 points per game) and 110th nationally in total offense (298.3 yards per game) as the Commodores went on to a 2-10 finish.
Elliott was hired by Clemson head coach Dabo Swinney in 2011 to coach running backs before being promoted to co-offensive coordinator and the offensive play-caller in 2015.
"As competitors in the ACC, I coached running backs, he coached running backs, so we're recruiting battling over the years, and NC State was always a tough, tough, tough physical battle every time we played them, and sometimes it was a low-scoring fourth quarter game, or it was a high-scoring shootout. I can remember a high-scoring shootout in Raleigh. I also can remember the win-loss column. Those are the things that I saw, and then just over the years we built a relationship," Elliott said.
Kitchings' Year 2 as the OC at Virginia is his first Year 2 as an OC.
The numbers aren't all that different than his numbers in his one-year stints at Vandy and State.
The 2022 UVA offense ranked 126th in scoring (17.0 points per game) and 103rd in total offense (344.1 yards per game).
Through three games in the 2023 season, the UVA offense ranks 109th in scoring (20.7 points per game) and 115th in total offense (316.7 yards per game).
Despite Kitchings' third run as OC not being a charm in terms of success and productivity, Elliott vouched for his guy.
"If you sit down, and you want to talk football, like, if you want to talk football, X's and O's, sit down with Des and just talk X's and O's, it's very, very high-level football IQ, and then you can see over the years players that he's coached that he was able to help them develop from a football standpoint," Elliott said.