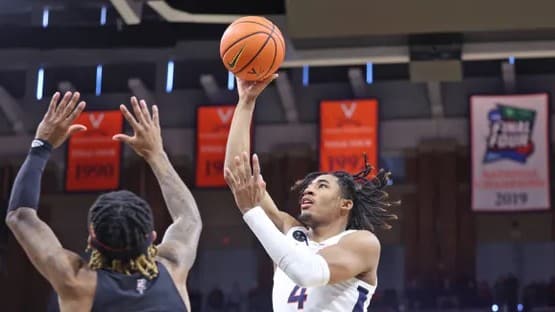 The word I'm getting on Virginia guard Armaan Franklin today is that it's not definite, but that, yes, it does sound like Franklin may be leaning toward moving on from UVA after graduation in May.
This would be a big loss, in one sense, given that Franklin has a year of eligibility left, and was the leading scorer this year, averaging 12.4 points on much improved shooting from three – connecting on 37.3 percent, after hitting just 29.6 percent of his long shots last season.
Notice my hard hedge there, though – that it would be a big loss in one sense.
In another, Franklin could be an all-or-nothing guy. He had 26 in the win over Baylor in Vegas in November, 25 in the win down at Wake in January, 23 in the OT win over Duke in JPJ in February.
He also put up a goose egg on 0-of-7 shooting in the loss at Miami in December, six points on 2-of-9 shooting in the loss at Virginia Tech in February, four points on 2-of-10 shooting in the loss at Boston College late in the season, and eight points in 21 listless minutes in the NCAA Tournament loss to Furman.
On the whole, Franklin is a valuable guy – a veteran player who is a borderline NBA talent when he has everything clicking, knows the system, is a plus defender, can stretch defenses with his perimeter scoring, can take guards off the dribble, can score in the post against smaller guards.
So, yes, it would be a loss if Franklin goes, as I'm now, unfortunately, expecting.
The word that we've been getting that Tony Bennett and Co. have been reaching out to some of the top guards on the transfer portal is probably a sign that the staff has been given some inkling that Franklin may be leaning in this direction.