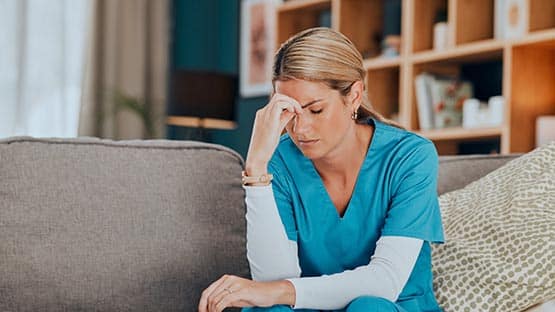 Twelve health systems including 75 hospitals and 59 urgent care centers have been recognized as WellBeing First Champions for changing invasive and stigmatizing mental health questions in their licensing applications. This represents a 47 percent increase from last year.
The WellBeing First Champions were recognized by the Dr. Lorna Breen Heroes' Foundation, a nonprofit dedicated to reducing the burnout of health care professionals and safeguard their wellbeing and job satisfaction.
The health systems recognized include Augusta Health, Sentara and the University of Virginia Health System.
As of Sept. 12, 12 health systems including nine in Virginia are recognized as Wellbeing First Champions, meaning they have audited and changed these questions in all applications.
These health systems include:
Augusta Health
Bon Secours Mercy Health
Centra Health
Children's Hospital of the Kings Daughters
Henry Ford
Inova Health System
Mary Washington Health Care
Northwell
GoHealth Urgent Care
Sentara Health System
University of Virginia Health System
Valley Health System
These changes ultimately benefit more than 127,000 health workers.
In Virginia, the state medical board is in the process of making these changes to protect health workers.
"My sister-in-law, Dr. Lorna Breen, did not access the support she needed for fear of losing her job, her medical license and facing ostracism from colleagues – and in April 2020, she died by suicide," said Corey Feist, co-founder and president of the Dr. Lorna Breen Heroes' Foundation. "Unfortunately, her story is all too common.
"Every day, countless health workers are facing situations like Lorna's. However, we must continue to remove these barriers to support health workers and make sure that they know they can pursue the care that they need to prevent tragic outcomes," Feist said.
The Dr. Lorna Breen Heroes' Foundation collaborated with the state legislature to pass laws in Virginia which established state-wide requirements to change or remove mental health questions in applications.
"The progress made over the last year to protect health workers' access to mental health care is truly monumental," said Feist. "The changes made to these applications are life-saving, and their impact extends beyond measure. We commend all the WellBeing First Champions for demonstrating their dedication to preventing suicide and supporting the wellbeing of their healthcare workforce."
These changes must be made in nursing licensure boards, specialty licensure boards and insurance/malpractice applications, said the foundation in a news release.
"Every physician, nurse and health worker in our country deserves the opportunity to safely access the mental health care they may need without fear of consequences," said Feist. "The Dr. Lorna Breen Heroes' Foundation is dedicated to catalyzing change and driving solutions until every state and hospital has removed this barrier."