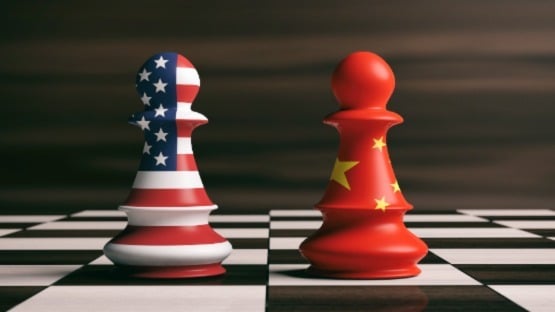 Virginia's current governor, Glenn Youngkin, angling for a spot in the 2024 Republican presidential race, turned down a new Ford plant and 2,500 jobs, citing unfounded fears of Chinese Community Party influence on the project.
A Democrat angling for a spot in the 2025 Virginia gubernatorial race, Abigail Spanberger, has a message for Youngkin.
Hold my beer.
Spanberger, who won a tough re-election battle for her Seventh District seat in November, outdueling a Youngkin-backed far-right conservative, is the lead sponsor of two pieces of bipartisan legislation in Congress aimed at reducing Chinese influence on U.S. economic interests.
The China Financial Threat Mitigation Act, which Spanberger introduced with Texas Republican Roger Williams, would require financial regulators to analyze potential financial threats emanating from the Chinese economy that may have substantial impacts on the U.S. economy.
Spanberger and Williams introduced that bill last week.
Last month, Spanberger and a motley crew including insurrectionist Republicans Tommy Tuberville (R-AL), Ronny Jackson and Pete Sessions (both R-TX) introduced the Foreign Adversary Risk Management Act, which would protect America's ag industry from foreign investment backed by the Chinese Communist Party.
"Direct foreign investment in American agriculture and infrastructure has skyrocketed — and the Chinese Communist Party has driven much of this growth. In the face of significant foreign investment in American farmland, we need to recognize how foreign actors could pose potential threats to our economic strength, the competitiveness of our ag industry, and our national security," Spanberger said.
A prominent example of Chinese ownership in the American agriculture sector is Smithfield Foods, the Virginia-based company behind the free bacon giveaways at UVA and Virginia Tech basketball games, which is owned by a Chinese conglomerate, WH Group.
Smithfield is headquartered in Isle of Wight County, which is represented in the Virginia House of Delegates by a Republican, Emily Brewer, who introduced legislation that would have prohibited state agencies from entering into contracts with any company owned or operated by a foreign adversary.
Brewer told the Washington Post that her bill, which died in the State Senate, somehow would not have impacted Smithfield Foods, one of the biggest employers in her district, trying to sidestep the obvious issue there by stroking Smithfield Foods as being "a great employer."
"I think that they operate the same as they did before, and I think that's a different instance," Brewer said.
Aha. Smithfield is a "different instance."
Gotcha.
Meanwhile, there's Ford, which wanted to locate a new battery plant in the Danville area, which could certainly use the 2,500 jobs that would have come with the plant, and are now instead going to Michigan.
Youngkin is playing up his brave stand against Ford, who he said was structuring its plans for the battery plant to allow a Chinese partner to be able to take advantage of federal tax incentives, in a campaign-style online ad proclaiming that "Made in Virginia cannot be a front for the Chinese Communist Party."
Ford has countered the governor by pointing out that the new plant will be owned and operated by a Ford subsidiary, and that the only role played in the project by the Chinese company, Contemporary Amperex Technology Co. Limited, the world's largest battery manufacturer, will be the use of CATL's licensed lithium iron phosphate battery technology on a contract basis.
Youngkin's response is to bring more attention to the own goal, calling the project "an economic arrangement engineered to tap into federal government subsidies paid for with taxpayer money that is going to economically benefit the Chinese Communist Party," and claiming that China is "manipulating Ford to do something to get access to this market."
But this is a bipartisan blind spot, as evidenced by Spanberger, who might have to be considered an early frontrunner for the Democratic gubernatorial nomination in the early look at the upcoming 2025 cycle.
"The Chinese Communist Party poses a threat to the very foundations of America's financial system — and these threats jeopardize the long-term security of families and businesses in Virginia and across the country. To hold the CCP accountable, we need clear information about the risks ahead, as well as a commitment to protecting American economic interests and working with international partners to mitigate these threats," Spanberger said, defending her work on the China Financial Threat Mitigation Act with Williams, who, along with Tuberville, Jackson and Sessions, voted against certifying the 2020 presidential election hours after the attack on the U.S. Capitol by pro-Trump forces.
"Our bipartisan bill would oppose the CCP's longstanding trade and financial abuse practices," Spanberger said. "By building a strategy for leveling the playing field and holding the CCP accountable for its lack of financial transparency, the China Financial Threat Mitigation Act is a step in the right direction as we work to keep America competitive. I want to thank Congressman Williams for his partnership on this pressing issue of economic and national security."