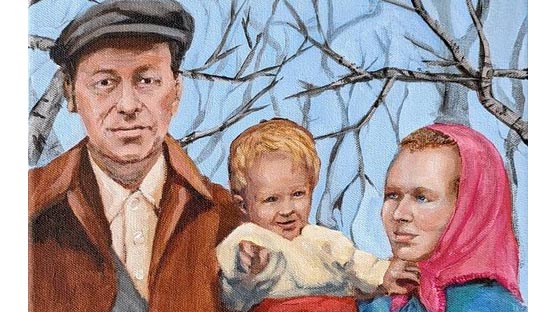 Arts Council of the Valley opens a new Smith House Galleries exhibition on April 7. Her Wounded Soul: A Visual Story of Ukrainian and Immigrant Culture, and Her Devastating Tragedy features works by Viktoriya Samoylov and Natalia Verko.
A moving exhibition, Her Wounded Soul portrays the social and rural culture that encompasses much of Ukraine, through a visual journey winding from the late 1980s to the present day.
Samoylov, a Ukrainian-born American, lives in the Shenandoah Valley. She generally creates figurative work with acrylics in impressionist-inspired strokes. Eternally fascinated by the reflections of sun and shadow, her pieces gravitate towards nostalgic and thoughtful moods.
Verko is a Harrisonburg-born artist whose parents immigrated in 1989 from Ukraine which was still part of the Soviet Union. She pulls inspiration for her drawings and mixed media works from her upbringing and current world events. Verko's pieces generally focus on the simultaneously harsh and gentle human experience. Her current projects are a meditation on the impact of the continuing war in Ukraine and how the war affects the Ukrainian diaspora.
"Some of the paintings are based on family photos from the 80s right as Ukraine was seceding from the Soviet Union," said Samoylov. "The generation before had suffered much loss, famine and war. Their children were now part of the new hopeful generation.
"Though many chose to migrate to the United States after the 90s," she said, "they brought their culture and traditions with them, making sure to keep them alive for their own children as they enjoyed their new freedom of religion, financial stability, and opportunities, while still keeping within their social circles of friends and family."
Verko expressed the challenge of straddling two cultures.
"As the children of this new community work through the two different cultures of American and Ukrainian between them, this creates new conflicting situations as they try to find where they belong," Verko said. "Many go back and forth between the two countries, learning and connecting with their home country."
The exhibition also examines the current war in Ukraine, and "the devastating destruction of a society that had been rebuilding lives only to have it all taken away once more," Verko said.
"We want to invite people to glimpse a more intimate look not just of the horrors of today, but also to appreciate the complexity of culture that is the Ukrainian people."
Smith House Galleries is located at 311 South Main Street in Harrisonburg.
The public is invited to an opening reception, sponsored by Riner Rentals, during First Fridays of the Valley, on April 7 from 5 to 7 p.m. The reception will feature Ukrainian foods with Ariana Yavny performing accordion tunes.
The exhibition runs through April 28, with in-person visits Monday-Friday, 11 a.m. to 4 p.m., and Second Saturday (April 8, 10 a.m. to 2 p.m. – another chance to visit with the artists).
The exhibition will also be available online through valleyarts.org/current-exhibition.