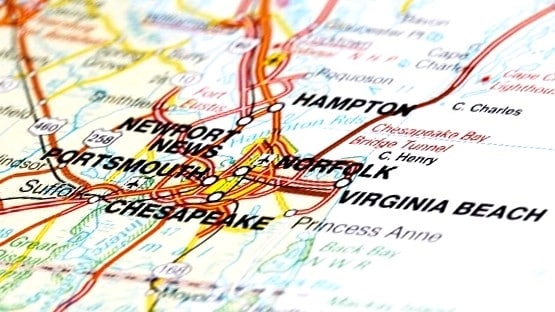 A full-service ship repair and industrial services provider will invest $8.5 million to expand operations in Norfolk.
Lyon Shipyard, established in 1928, has more than 95 years of continuous service in ship repair and industrial service. The company's two facilities in Norfolk are on more than 30 acres of prime waterfront property along the eastern branch of the Elizabeth River.
"We are proud to call Norfolk, Virginia home. The support and partnership Lyon Shipyard receives from the Commonwealth of Virginia has been astonishing," Lyon Shipyard Vice President of Human Resources Nikole Dunkley said. "Our upcoming expansion will allow Lyon Shipyard to hire an additional 134 employees. We want to be the change so many other companies just talk about — Lyon Shipyard wants to lead the charge and help transform the socioeconomical landscape for the City of Norfolk and its residents."
Lyon supplies commercial and government customers with services including marine electronics repair, barge repair and pier side repairs, as well as hauling vessels out of the water for underwater repairs to equipment such as propellers, tail shafts, and rudders. Commercial customers include tug and barge operators, dredging and marine construction contractors, ferry and cruise ship operators, research vessels, and commercial fishing companies. Government customers include the U.S. Navy, U.S. Army, the Coast Guard, Military Sealift Command and the Maritime Administration.
Lyon plans to increase capacity to operate on commercial ships and vessels that service offshore wind farm operations. Virginia competed with Maryland and North Carolina for the project, which will create 134 new jobs.
"Lyon Shipyard has been a leader in marine repair and industrial services in Norfolk for nearly a century, and its new investment will allow the company to service vessels integral to Virginia's growing offshore wind industry," Gov. Glenn Youngkin said. "We thank Lyon Shipyard for its long-term partnership with the Commonwealth and advancing Virginia's position as a leading state in this emerging sector on the East Coast."
The Virginia Economic Development Partnership, the City of Norfolk and the Hampton Roads Alliance worked together to secure the project and will support Lyon Shipyard's job creation through the Virginia Jobs Investment Program (VJIP), which provides consultative services and funding to companies creating new jobs in order to support employee recruitment and training activities.
"Congratulations to Lyon Shipyard for more than nine decades of success in Norfolk serving customers from the private sector and our U.S. military," Secretary of Commerce and Trade Caren Merrick said. "Hampton Roads has the business climate, robust maritime workforce, and world-class port infrastructure to position companies like Lyon Shipyard for continued growth and prosperity for decades to come."