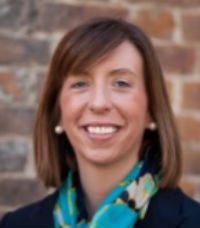 The Shenandoah Valley Partnership Executive Committee and Board of Directors is pleased to announce the selection of Carrie Hileman Chenery as the new executive director of the organization.
Chenery is coming to the Partnership from the Virginia Office of the Governor where she serves as the Assistant Secretary of Agriculture & Forestry and is responsible for the oversight and advancement of economic development efforts, including providing administration of the Governor's Agriculture and Forestry Industries Development (AFID) fund, related to Virginia's largest private industries of agriculture and forestry.
Prior to her current role she gained valuable, wide- ranging economic development, marketing, government relations and communication experience as the Manager of Legislation & Policy at the Virginia Economic Development Partnership and as a Director of Government Affairs with the law firm Williams Mullen.
Chenery is a native of Rockbridge County and a graduate of Virginia Tech where she earned a Bachelor of Science degree in Environmental Policy & Planning and Agriculture & Applied Economics. She is also a graduate of the Political Leaders Program through the Sorensen Institute for Political Leadership at the University of Virginia.
"The Partnership is fortunate to hire a native of the region and the consummate economic development professional that has a high level of energy and enthusiasm around ensuring that the region continues to be a healthy and growing economy," says Greg Godsey, chairman of SVP. "The Executive Committee looks forward to working with Mrs. Chenery to continue and improve the reputation of the Shenandoah Valley Partnership throughout the region, the state and the nation."
"Carrie has been an outstanding colleague and partner in Governor McAuliffe's efforts to build a new Virginia economy," said Todd Haymore, Virginia Secretary of Agriculture & Forestry. "Indeed, her work for the Governor and Secretariat on behalf of Virginia's agricultural and forestry industries, especially recruiting new businesses to Virginia and administering the AFID economic development incentive fund, has been invaluable and we will miss her dedication, creativity, and positive attitude. The Shenandoah Valley Partnership is gaining a top-tier performer in Carrie, and I look forward to working with her to create more jobs and economic opportunities in the Partnership's footprint."
The Shenandoah Valley Partnership is a public/private economic development organization serving the central Shenandoah Valley region. The Partnership provides marketing services, site location assistance and support to existing businesses.
The Partnership serves the counties of Augusta, Bath, Highland, Page, Rockbridge, Rockingham and Shenandoah, and the cities of Buena Vista, Harrisonburg, Lexington, Staunton and Waynesboro.