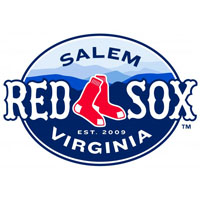 While Jake Peavy enjoyed a superb start at Fenway Park this afternoon, one of the prospects that Boston parted with to obtain the big league arm helped end Salem's historic streak on Wednesday evening at LewisGale Field.
J.B. Wendelken, a 21-year-old righty from Georgia, retired the first 12 men he faced and dealt six spectacular innings to help Winston upend Salem 4-2, halting the Red Sox' winning streak at 16 games. Salem still enters the record books as equals of the 1950 Winston-Salem Cardinals, who set the carolina league record with 16 consecutive wins when Harry Truman manned the Oval Office.
Salem's first setback in 224 days, dating back to August 28, 2013, was partly a result of Adam Heisler's offensive onslaught from the bottom of the order. Batting ninth, Heisler went 3-for-4 with two triples and two RBI, scoring Winston's first run and driving in the next pair to build a 3-0 lead in the fourth.
Meanwhile, Wendelken remained perfect through four innings until David Chester opened the fifth with a towering solo homer to left. The missile got the Sox on the board, and later in the frame, Kevin Heller's two-out RBI single plated Mario Martinez to bring Salem within a run.
In the seventh, Winston added one insurance tally, with Nick Basto coming across on Courtney Hawkins' RBI double. Up 4-2 in the eighth, the Dash loaded the bases with nobody out against Dayan Diaz, but Salem's hard-throwing righty retired the next three Winston batters to escape unscathed.
Down to their final at-bat, the Red Sox drew a pair of walks to put the tying runs aboard, but the game-changing hit to create a miraculous 17th consecutive win was not discovered. Martinez flew out to deep right field and Ryan Dent grounded out to strand the potential tying runs.
Wendelken, with six innings of two run, four-hit ball, earned the victory, while William Cuevas suffered the loss despite striking out eight in five frames. Jarrett Casey issued two walks in the ninth, but recovered to earn his first save of the season.
Salem will seek the beginning of a new streak in Thursday in the rubber match against Winston-Salem, scheduled for 7:05. Luis Diaz, who authored 20 scoreless innings over three starts during the 16-game streak, makes the start for the Sox. Brad Goldberg counters for the Dash.