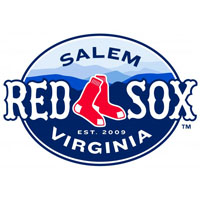 The Salem Red Sox pitching staff stranded 13 Dash runners on base, including eight in scoring position, as Salem defeated Winston-Salem 3-2 Friday night at BB&T Ballpark.
Red Sox (5-4) starting pitcher Jalen Beeks got into some trouble in the first inning, yielding a run on an RBI single from Nick Basto. Beeks was able to strand the bases loaded in the frame, avoiding any further trouble.
The offense got going against Dash (3-6) starter Jordan Stephens in the third inning, as Yoan Moncada doubled off the wall in center, then stole home later in the inning as part of a double steal. Andrew Benintendi, who swiped second on the play, was driven in by Nick Longhi as the Sox took the lead.
Beeks (1-0) settled down to keep the Dash off the scoreboard for the remainder of his 5.0-inning outing. The lefty struck out six and walked just one to earn his first win of the year.
Salem plated an insurance run in the top of the seventh inning against Winston-Salem reliever Colin Klevin when Moncada brought Mike Meyers in with a sacrifice fly. Meyers led off that inning with a triple, his second of the season, and the Red Sox' Minor League Baseball-leading 10th three-base hit of the season.
Yankory Pimentel stranded two runners on base in each of his two innings of work out of the bullpen, and Austin Maddox yielded a run in the eighth inning, but was able to set down the side in order in the ninth thanks, in part, to a spectacular play by Mauricio Dubon on a short fly ball to centerfield.
Stephens (0-2) got tagged with the loss for the Dash, while Maddox recorded his second save of the season.
The Red Sox continue their series with the Dash Saturday night. First pitch is scheduled for 6:30 pm. Ben Taylor (0-0, 2.25) gets the call for the Red Sox, while lefty Blair Walters (0-0, 0.00) will go for the Dash.  Follow along with all the coverage on the Salem Red Sox Baseball Network.