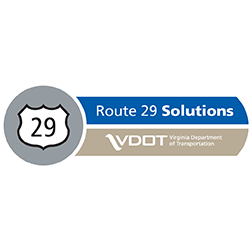 In an effort to provide contracting and employment opportunities for local businesses, Lane-Corman Joint Venture will hold a vendor fair for local, small and disadvantaged business enterprise (DBE) contractors, vendors and suppliers interested in subcontracting for the Route 29 Solutions highway improvement projects.
The DBE Vendor Fair will be held at the DoubleTree by Hilton Charlottesville, 990 Hilton Heights Road, from 2 pm to 4 pm on Thursday, July 16. Representatives from Lane-Corman will be available to provide information about the types of services that will be needed for the projects. Representatives from the Virginia Department of Transportation's Civil Rights Division will also attend to assist prospective applicants with the DBE registration process.
Lane-Corman Joint Venture is the contractor selected by VDOT to construct three major design-build components of the Route 29 Solutions improvement program.  Lane-Corman will deliver a grade-separated intersection at Rio Road and Route 29, widen existing Route 29 between Polo Grounds Road and Towncenter Drive and extend Berkmar Drive north from Hilton Heights Road to Towncenter Drive.
For more information about DBE opportunities and the DBE program in Virginia, visit the DBE program webpage on VDOT's website.
For additional information on the Route 29 Solutions project, visit VDOT's website at www.route29solutions.org.