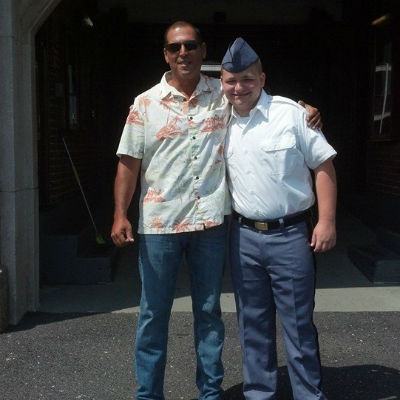 Back in the '70s, Ed Rogerville would have been on enemy territory at Fishburne Military School. A 1976 graduate of Augusta Military Academy, Rogerville wouldn't have guessed back then that he would be walking the grounds of the one military school in Augusta County that would survive the decade.
"At one time, it was a big thing, to send your son to military school, get him a military school education. Military schools were all over Virginia and all over the South. Then they started to struggle. There used to be three here in Augusta County. Three premier schools, and two of them are gone," said Rogerville, whose son, Russell, is a second-year cadet at Fishburne.
It was Russell's idea to go to military school. The Amelia County native didn't think public school was the right fit for him.
"I knew I needed a change," said the younger Rogerville, who worked up an itinerary of visits to military schools in Virginia with his father that included Fishburne, Hargrave and Fork Union.
Fishburne was first on the list, and "before we left, he said, 'Dad, this is it, this is where I want to go,'" said Ed Rogerville, who was secretly pleased with the decision.
"I was hoping this would be his choice, but it was up to him," he said.
The history was important to Ed, who has great memories of the rivalries between Augusta Military Academy, Staunton Military Academy and Fishburne Military School.
Now with his son having matriculated at Fishburne, Ed Rogerville finds himself on the friendly side of the rivalry.
"We've already developed a great friendship with the Fishburne alumni, and they have been gracious hosts. Couldn't ask for any better treatment," he said, telling a story about an his visit to FMS' Alumni Weekend 2015, which included an alum drill-off.
"I had to do a drill off. It was me, by myself, against all those guys," Ed Rogerville said, smiling. "I held my own. It's a lot of kidding around, joking around, but it's all good."
Father has seen son "turn 180 degrees" in his year and a half at FMS.
"We have been thoroughly impressed. Very, very pleased with his decision to come to Fishburne. Excellent faculty and staff, an outstanding superintendent, Col. Morrison. We've been very, very pleased with everything that has transpired," Ed Rogerville said.
For Russell, "I knew I had to change. I had to get out of the public school system," he said. "Something just clicked when I came here. The size of it, quality over quantity. The focus on individuality, working on each person.
"That's what I wanted. Discipline. Being able to tell myself to get off the TV and do my homework. Getting my uniform ready for the next day. Waking up on time. It all plays a special part in how you go about your day, and if you don't have the discipline to do it, it doesn't matter.
"I'm not nearly the same person that I was when I first walked on campus a year and a half ago. This place has changed me in ways I couldn't have imagined," said Russell, a junior academically, who plans to enlist in the Air Force upon graduation in 2017.
He will follow in the footsteps of his father in military service. Ed Rogerville served in the Marine Corps for seven years, and he is "proud" that his son is inspired to want to serve his country.
"He has grown so much in his time here," Ed said. "That's the thing about a military education. It's hard to instill certain standards in your child when those standards aren't enforced in the public school system. I remember when he was in the public school system telling him about how he needed to get this assignment in, meet that deadline, and he'd say, It doesn't matter if I get it in on time, I'm still going to get credit for it. I'm looking at my wife, and she's saying, Yeah, that's right.
"What good is a deadline if you don't have to meet it? There's no discipline, no accountability, and it's hard to have that kind of discipline and accountability at home when as soon as they walk out the door, it's not there anymore."
That Russell is learning these values a short distance away from a rival military school campus that turned Ed's life in the right direction is not lost on the father, or the son.
"Fishburne is still here, they're thriving, they're doing well, and I feel it's very, very important, not only for the young men to be here, but for us as adults and alumni and citizens of the community to be supportive, because these schools really are, in this day and age, little islands all by themselves," Ed Rogerville said.
"They're teaching things to young men that they don't do in public school anymore. Not just the academics, but the ethics. Don't lie, cheat and steal. They're held to a different standard all across the board.
"Some folks in our society are starting to see the value again of this kind of education. I think that's a great thing," Ed said.
For Russell, enrolling at Fishburne was a bit of a tribute to his father.
"I knew that I couldn't be in public school and turn out to be the man that he is, to be the father that he's been to me. I knew something had to change, and the best place to start was to follow in his footsteps," he said.
– Story by Chris Graham