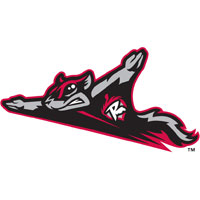 The Richmond Flying Squirrels (76-63) defeated the Binghamton Mets (83-56), 2-1, in front of 6,889 at The Diamond on Friday night.  With the win, and an Akron loss to Erie, the Squirrels claimed their first-ever regular season Western Division title.
By claiming the division, the Squirrels now know they will open the postseason on the road on Wednesday.  Their opponent in the Western Division Championship Series remains unclear.  With the announced crowd, the Squirrels overall attendance raised to 399,452 with three dates remaining.  They passed the Reading Fightins total of 394,458.  Reading has no more home dates, while every other team in the league is eliminated based on the maximum capacity of their respective ballparks.
Binghamton struck extremely quickly against lefty Adalberto Mejia in the top of the first inning.  The first three hitters all recorded hits.  Kyle Johnson got things started with a lead-off double to right-center field.  T.J. Rivera followed and rifled a single to right field to put runners at the corners with nobody out.  Brian Burgamy then made it, 1-0, for the B-Mets with a single to center field.  Mejia eventually got a double-play to avoid further harm.
Richmond responded immediately against lefty Steven Matz in the bottom of the first.  Skyler Stromsmoe led off and singled back through the middle.  An out later, he stole second base.  Mario Lisson then lined a double just fair up the right-field line.  Stromsmoe scored to tie the ballgame, 1-1.
Stromsmoe and Lisson teamed up on Matz again as the Squirrels grabbed the lead for the first time in the third inning.  Stromsmoe connected for a one-out double lined into the right-field corner.  An out later, Lisson pulled a single up the third-base line for a 2-1 Richmond lead.
Matz (6-5) allowed nothing further, at times looking dominant in his five innings.  He was charged with two runs on five hits, walked none and struck out 10.  He endured his fifth loss of the season.
Mejia (7-9) delivered a strong six-inning performance, buoyed by sensational defense behind him.  He allowed just the lone run on six hits, walked three and struck out three.  Mejia has now allowed just four runs over his last three starts (19 IP), and won for the seventh time.
Right-hander Edwin Quirarte handled five outs, and lefty Steven Okert recorded the final out of the eighth inning.  Right-hander Hunter Strickland then worked the ninth to preserve the win.  Strickland earned his 11th save.
Game two of the four-game series is scheduled for 6:05 p.m. on Saturday night at The Diamond.  Richmond LHP Jack Snodgrass (11-6, 3.66) will make the start against Binghamton RHP Rainy Lara (6-4, 4.25).  The Flying Squirrels Pregame Warmup will begin at 5:35 p.m. on Sports Radio 910 and SportsRadio910.com.