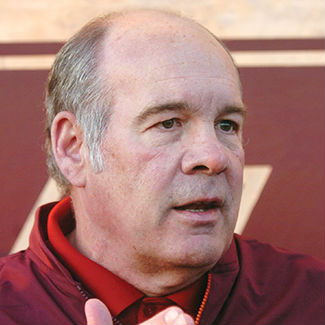 Jim Weaver, whose vision and leadership as the director of athletics catapulted Virginia Tech in the Big East Conference and later the Atlantic Coast Conference, passed away at his Blacksburg home
Wednesday
night at the age of 70.
Weaver served as the director of athletics at Virginia Tech for more than 16 years from 1997-2013 before announcing in November of 2013 that he was retiring at the end of the calendar year because of health reasons. In 2004, Weaver had been diagnosed with Parkinson's disease.
His decision to retire ended a career as an athletics administrator that spanned more than three decades.
"Jim Weaver made a tremendous impact upon our institution, and we are deeply saddened to hear of his passing," Virginia Tech President Timothy D. Sands said. "He was dedicated to making our athletics enterprise among the best in the country, while always being true to the principles and values of this university. We will always be inspired by his legacy."
Weaver, a 1967 graduate of Penn State who played football for legendary coach Joe Paterno, came to Tech in 1997 after serving as the athletics director at Western Michigan for two years and at UNLV three years prior to that. He inherited a difficult situation at Virginia Tech, as the university was trying to get into a conference for all sports. Virginia Tech found itself in the Big East for football, the Colonial Athletic Association for wrestling and the Atlantic 10 for all other sports.
Under his leadership, though, the school got into the Big East for all sports (except wrestling, which was in the Eastern Wrestling League) starting with the 2000-2001 season. His ability to get the department on solid financial footing, his emphasis on facilities and his strong oversight in the areas of NCAA compliance set the groundwork for the school's invitation into the ACC for all sports starting in 2004.
Virginia Tech won 16 ACC team championships during his tenure, and it has added four more since Whit Babcok replaced Weaver beginning in February of last year.
"I just saw Jim Weaver last night at our sons' baseball game, and we had a nice conversation," Babcock said. "I was so shocked and saddened to hear the news of his passing.
"Jim was a terrific man and a dedicated father to his four sons and husband to wife, Traci. He was also a tremendous leader, and I'm forever appreciative of the situation he left me here. This department was in great shape because of his leadership, and he was always so willing to help me. He is certainly going to be missed by all of us, and we offer our thoughts and prayers to his wife, Traci, their son, Craig, and the rest of the family during this difficult time."
Weaver's biggest impact at Virginia Tech came in his emphasis on facilities. The department committed nearly $200 million toward facilities during his time as the athletics director.
Weaver spearheaded the building of the south end zone at Lane Stadium and later the expansion of the west side of the stadium. He also oversaw the building of the Hahn Hurst Basketball Practice Center, the new football locker room, the new baseball hitting facility and many other projects and renovations. At the end of his tenure, he got approval for the new indoor practice facility, a project that was completed just a few weeks ago.
"I greatly appreciate what Jim Weaver meant to Virginia Tech, and what he meant to me personally," Tech football coach Frank Beamer said. "He was a former player and coach who understood those challenges as he served as athletics director. I respected that he was always organized, straightforward and was never afraid to make the tough decisions.
"When Jim took the job, he pledged to greatly upgrade our facilities, and that's exactly what he did, and we're all the better because of it. Virginia Tech Athletics made tremendous strides during his tenure, and much of the credit goes directly to Jim due to his vision and leadership. My wife, Cheryl, and I send our prayers and deepest sympathies to Traci, Craig and Jim's extended family and friends."
Weaver also hired some outstanding coaches – in many cases, taking an outside-the-box approach. He hired a local high school coach in Kevin Dresser to oversee the wrestling program, and his hires of Dave Cianelli (track and field), Jim Thompson (men's tennis), Ned Skinner (swimming and diving) and Pete Hughes (baseball), who left two years ago to take the Oklahoma job, have brought unprecedented successes to those respective sports. He also promoted Chugger Adair from assistant coach to the women's soccer head coaching position after Kelly Cagle resigned in 2010 for family reasons. Adair has guided the program to three Sweet 16 appearances in his time as the head coach, including a College Cup appearance in 2013.
Other achievements of Weaver's included the addition of high-profile opponents to the Hokies' football schedules (USC, Nebraska, LSU, Texas A&M) and the spearheading of the "Battle at Bristol" in which Virginia Tech and Tennessee are going to play at Bristol Motor Speedway during the 2016 season. The game could break the single-game all-time college football attendance mark, as the speedway seats an estimated 150,000 fans.
In addition, Weaver expanded the department's auxiliary units, such as strength and conditioning, sports medicine and marketing; he added women's golf to the list of varsity sports at Virginia Tech; and he fought for a larger staff in Virginia Tech's Student-Athlete Academic Support Services. When he started, the staff essentially consisted of a few people. Now, it consists of 10 full-timers, and that staff has played a huge role in Virginia Tech's impressive rise in graduation rates among student-athletes.
Weaver's accomplishments didn't go unnoticed nationally. In 2009, he won the prestigious John L. Toner Award presented by the National Football Foundation and College Football Hall of Fame. The award is given each year to a director of athletics who has demonstrated superior administrative abilities and shown outstanding dedication to college athletics and particularly college football. He also was named the athletics director of the year by the National Association of Collegiate Directors of Athletics (NACDA) in May of 2014.
Weaver leaves behind wife, Traci, and four sons – Josh, Paul, Cole and Craig. Funeral arrangements will be released at a later date.