O line: Better (it's all relative)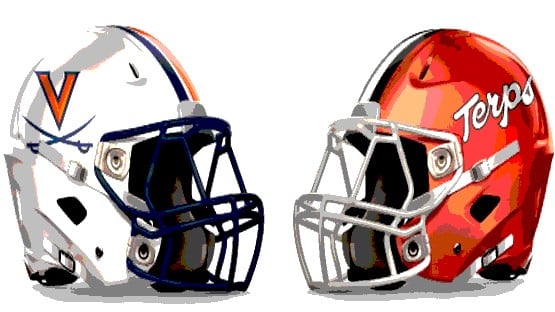 The UVA offensive line allowed two sacks and 13 QB pressures in the 42-14 loss to Maryland, which represented an improvement over its numbers for the first two weeks.
In Week 1, Tennessee had five sacks and 20 total QB pressures; in Week 2, JMU had four sacks and 13 pressures.
The line also cleared a path for the run game to have its best production of the young season – 128 sack-adjusted rushing yards.
That's still modest, by the way.
The 'Hoos rank 126th of the 133 teams in FBS in rushing yards per game this season (68.0 yards per game).
Yeah, yikes.
Brian Stevens, who moved over to center in Week 3, had the best Pro Football Focus grade (69.9), with left tackle McKale Boley (60.1) earning a season-high grade for his effort.
Also worthy of mentioning: right tackle Ugonna Nnanna earned a 58.0 PFF grade, and didn't give up a sack, and was debited for just one QB pressure.
Nnanna had been debited for a total of five sacks and seven pressures in the first two weeks.
QB: Colandrea struggles in second college start
The relative lack of pressure gave true freshman QB Anthony Colandrea plenty of clean pockets to throw from – per PFF's numbers, the pocket was clean on 37 of his 47 dropbacks in Week 3.
Colandrea wasn't nearly as good in those situations as he had been in Week 2 against JMU.
In Week 3, Colandrea was 21-of-35 for 218 yards, and all three of his INTs, with a 42.3 NFL rating, in clean-pocket situations.
For comparison, in Week 2, Colandrea was 17-of-21 for 299 yards, two TDs and an INT and a 130.7 NFL rating in his 23 clean-pocket dropbacks.
Breaking down his throws by depth: Colandrea was accurate, again, inside of nine yards downfield (18-of-21, 131 yards) and at medium depth (4-of-6, 63 yards on throws of 10-19 yards).
There was a bit of chuck-and-duck going on – on throws 20-plus yards downfield, Colandrea was just 2-of-12 for 71 yards.
One thing to like in the numbers: OC Des Kitchings called 10 play-action passes, and Colandrea was 5-of-8 for 93 yards and the lone TD pass, the 19-yarder to Kobe Pace in the first quarter, on those.
One other thing to like: PFF only reported one dropped pass among the receivers, though that one was significant (the Malachi Fields drop on what would have been a long gainer, possibly a TD, in the third quarter, when the game was still very much in play).
Of note with respect to the receivers: 27 of Colandrea's 39 targets were in the direction of Malachi Fields (7-of-14, 70 yards, one INT, 34.8 NFL rating) and Malik Washington (9-of-13, 141 yards, one INT, 72.9 NFL rating).
No other target got more than four pass attempts in his direction (running back Kobe Pace).
This could be a sign that maybe Colandrea is locking in on one guy and not going through the progressions when that guy is covered, which you can expect from a young guy trying to get acclimated to the speed of the game, and different coverages being thrown at him.
Defense: Better (marginally)
The front registered a season-high 14 QB pressures (previous high: 12 in Week 2).
Three guys to brag about:
defensive back Coen King (70.4 PFF grade, eight tackles, one missed tackle, zero catches on one pass target in 33 coverage snaps)
edge rusher Kam Butler (67.7 PFF grade, one sack, three pressures, three tackles, one missed tackle on 61 snaps)
defensive tackle Aaron Faumui (67.6 PFF grade, five pressures, five tackles, one missed tackle on 50 snaps)
Three guys who struggled:
linebacker Josh Ahern (56.5 PFF grade, six tackles, four missed tackles on 59 snaps)
defensive back Malcolm Greene (41.4 PFF grade, three tackles, four catches on six targets on 22 coverage snaps, 127 yards receiving allowed, 149.3 NFL passer rating against)
edge rusher Chico Bennett (37.7 PFF grade, two pressures, one tackle on 47 snaps)