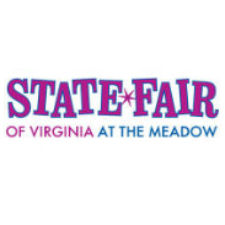 To win blue ribbon bragging rights, you've got to enter one of the State Fair of Virginia's many competitions.
Fortunately, the fair includes competitions to suit every taste and talent!
Registration is now open for the fair's general competitions, as well as for livestock competitions and 4-H and FFA hay bale decorating and student garden contests.
Everything from gluten-free baked goods to dwarf dairy goats will be judged prior to and throughout the 2016 fair.
Feeling artsy or crafty? You can enter artwork, photography, quilting, needlework, sewing, basketry and jewelry. Among last year's blue ribbon winners were a crocheted Uncle Scrooge figure, painted cowboy boots inspired by the works of Monet, an overhead photograph of a ring of Converse sneakers, and a dress made of duct tape.
Like to make miniature replicas? There's a new competition for adults who want to create a miniature room scene. Rooms cannot be larger than 30 inches in height, width or depth and should closely resemble the room of a house—down to the tiniest table lamp or smallest sofa. Adults and youth who like to create postcards can enter the new postcard competition. Entries can be quilted or made of paper, metal or wood.
If you've got a sweet tooth, the baked goods competition includes categories for breads, cakes, pies, candy and cookies. Returning this year is a decorated gingerbread house competition. Entries can be made from scratch or from a kit. The first-place winner will receive a carload pass to the Illuminate Light Show, which will run Nov. 18 through Jan. 1, 2017, at The Meadow Event Park.
Blue ribbon winners in last year's preserved goods competition included a blueberry syrup and pickled beets.
In the crops and vegetable competitions, judges will examine corn, cotton, grains, peanuts, squash, sunflowers and more. Entries are judged on color, size, shape, freshness and uniformity.
In the open plants category a returning favorite is fairy gardens, which are miniature gardens complete with structures and living plants—perfect homes for fairies!
The theme of the hay bale decorating competition for 4-H and FFA groups is "Down on the Farm," and the theme of the 4-H and FFA student gardens competition is "Blue Ribbon Moments."
Entries for the livestock competitions are being accepted for beef and dairy cattle, dairy goats, pigeons and doves, market hogs, meat goats, sheep and poultry.
For more information or to register online or download an entry form, visit bit.ly/298gRiH.
The 2016 State Fair of Virginia will run from Sept. 23 through Oct. 2. Information is available atStateFairVa.org.
The State Fair is held each fall at its permanent home at The Meadow Event Park in Caroline County. The fair's mission is to increase agricultural and natural resource awareness and interest through educational programs, exhibitions and competitions in a fun, family-friendly setting.