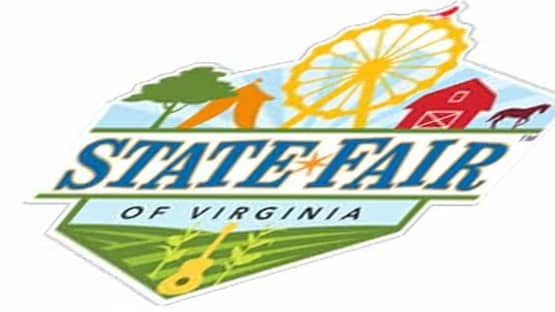 The State Fair of Virginia will be held Sept. 22 through Oct. 1 at The Meadow Event Park in Caroline County.
The 10-day event will feature a mix of attractions, food, music, rides and exhibitions—all while honoring Virginia agriculture and natural resources.
"2023 is a celebration of the many ways fairgoers enjoy the event," said Marlene Jolliffe, the fair's executive director. "We wouldn't be who we are today without our loyal fairgoers who create traditions and have their own approach on what makes their visit special."
Music enthusiasts can see a variety of concerts on the fair's Main Stage. This year's performances feature several Virginia artists, including the Bart Chucker Band, Chase Payne, Gone Country and Wilson Fairchild. Other artists taking the stage are The BRENCORE Allstars Band with Motown's greatest hits, rock band Pablo Cruise, new country artist Megan Moroney, bluegrass artists the Travelin' McCourys, country legend John Anderson and TikTok sensation George Birge.
Details and a schedule for the Main State Concert series can be found at StateFairVa.org.
All shows begin at 7:30 p.m. and are included in the cost of fair admission.
Fairgoers may bring their own blankets and lawn chairs for the concerts.
Among other experiences fairgoers can choose from are new acts, including DanDan the Farmer Man, a family-friendly comedy show. Also performing is the Cast in Bronze bell carillon, a unique musical experience featuring the world's largest and heaviest musical instrument.
And this year's Kidway and Midway include new thrillers like a monkey ride for the youngsters and a new storm ride and Italian wave swinger for adults.
"We continue to expand our grounds attractions and entertainment so guests can build their fair adventure the way they want," Jolliffe said.
Returning crowd-pleasers include two nights of Revenge Roughstock Rodeo Company's adrenaline-pumping professional bull riding, bronc riding and barrel racing; and families can root for their favorite speedy swine at the famed Rosaire's Royal Racers track.
Master chainsaw carver Ben Risney will wow guests by sculpting logs into one-of-a-kind masterpieces, with some auctioned off to benefit the fair's scholarship program.
The fair also showcases the best of Virginia, featuring hundreds of unique creations from talented artisans, cooks and crafters, with winning entries displayed for baking, quilting, woodworking, metalsmithing and more.
Families can get their animal fix by visiting Young MacDonald's Farm on the fair's south side to interact with farm animals and see the iconic duck slide and chick incubator. Guests also can experience hands-on farm fun at the petting zoo in Harvest Landing.
After exploring the fairgrounds and taking a spin on carnival rides, indulge fair food cravings from vendors serving up traditional treats like funnel cakes, turkey legs and deep-fried delights.
Many vendors also are debuting new fair foods for the "Flavor of the Fair" contest. Current contenders on the menu include dessert turtle beignets by Parnell Foods, crabcake eggrolls by Phat Boyz Catering and breakfast macaroni and cheese by Holy Macaroni.
Fairgoers are encouraged to vote for their favorite "Flavor of the Fair" on Facebook Sept. 22 through noon on Sept. 27.
Winning foods, including the fan favorite, will be announced on Facebook.
For local fare, check out the first-ever "Taste of Virginia," a ticketed event for sampling Virginia foods and beverages in the historic Meadow Hall. Ticket proceeds will benefit the fair's scholarship program and Virginia Agriculture in the Classroom.
And finally, what would be the fair without a fun, educational peek into Virginia agriculture? Families can learn all about the state's largest private business sector at the commodities pavilion; see gargantuan pumpkins, watermelons and squashes in the horticulture tent; and witness all kinds of equine and livestock exhibits and competitions.
Online ticket sales begin Sept. 1. Visitors who purchase a ticket and wish to leave and re-enter the fair on the same day must get a hand stamp from a gate attendant before exiting. No re-entry is permitted after 9 p.m. Sunday through Thursday and after 10 p.m. Fridays and Saturdays.
Visit StateFairVa.org, for more information.
Additional live updates can be found by following the fair on Facebook at Facebook.com/StateFairVa and Instagram at statefairva.