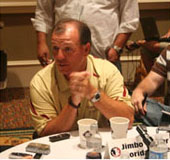 Q. Florida State near unanimous pick to win the division, near unanimous pick to win the league, Jameis Winston near unanimous pick for Player of the Year. Does any of that matter?
JIMBO FISHER: No, it's all about what you do now. You have to live in the moment, you have to proceed to the future, learn from our past experiences, and grow from them, and then be hungry enough to go play great football this fall.
Q. It seems like here as of late Clemson, Florida State has been a September game. Just for pure drama, would you like to see that game moved later into the schedule just to kind of help out with the ACC? And can I get your comments on Vic Beasley?
JIMBO FISHER: Yeah, the game is what it is. Depending on how the season — you never know how the season goes. If we come down to, it's us two, two of the leading candidates for that side, it does make it better and more drama when you mush it back. But it's scheduled when it's scheduled. We can't control that. Last year we had — we were in October or September last year, right at the end of September, I believe — but we'd each had four or five games or more to go. And I think when you have those years it does make it dramatic, but it's scheduled when it's scheduled and you have to deal with it and play it. When you play teams of that caliber early in the season, it does challenge you getting ready through camp and all the things you have, especially then Oklahoma State but they have Georgia, so we're very similar in that regard. Vic Beasley, outstanding player, very athletic, can play the run, can play the pass, very dynamic game plan for stand up, can move around. You've got to know where he's at at all times and make sure he's not matched on backs, or you have to slide protect to him. But you can't block one-on-one. One of the outstanding players of our conference and in the country.
Q. Coming into this season you're picked first in the Atlantic, but last year season it was a reversal of roles between you guys and Clemson, so that goes to show how much it doesn't mean.
JIMBO FISHER: Most times people pick it wrong, you're right. Y'all pick it wrong. We're evaluating y'all, too. If your percentage of getting it right was my percentage of coaching, you wouldn't have a job, either. (Laughter.)  What now?
Q. How do you keep your team focused on Oklahoma State?
JIMBO FISHER: I think that's very easy because they've been one of the outstanding teams in this country the last three, four, five years. Mike Gundy and their staff have done a tremendous job. Two years ago they were right in the hunt for the national title. They've had outstanding players and have done well at all levels of ball as far as going to the pros and everything else and opening up in Dallas stadium and the excitement and the exposure for that game and for our program and for our conference is tremendous, and we carry — that's a huge responsibility which we carry and we want to go out and play well so we can go out and compete in that game.
Q. There's been an explosion of kick returns in this league. Six kickoff touchdowns, ten punts. You can dominate a game, do the safe thing and punt, and all of a sudden run back and the game is tied. Does that change your thinking as to what's a safe play, and talk about being careful how —
JIMBO FISHER: I definitely think you have to constantly scheme because there's more dynamic people playing football now than ever, a bunch of guys that are very dynamic with the ball in their hand. But I also think you have to look at the quality of the people you're putting on your teams. Sometimes as a special teams guy, you put backups or young freshmen to give them time. Well, to me you're kicking to the other team's most dynamic player in space and you don't have your best players running down the field. That doesn't make a lot sense to me. We play a start of starters on all of our special teams, especially our punt cover team, because those things — and how to protect and block a punt. Those things are very important to us. We spend a lot of time on that, but you definitely do have to calculate and know who you're kicking it to and how you're kicking it and making sure you're covering.
Q. This time last year, we were asking you how important it was for you to kick the door down and win it all and for the conference to do that. And now that both boxes have been checked, how much do you feel still remains to be proved that the ACC is a top tier football conference and that you're a legit perennial national title contender?
JIMBO FISHER: I think you have to prove it every day. When good enough becomes good enough, you have a problem. If you don't ever keep that attitude of domination, that hunger to be great, somebody is going to pass you up. It's too competitive in our business, there's too many good players and too many good coaches out there to not stay on top, and I think that's always your goal. If you don't have that, you should get out of it. If your goal is not to be that way and put the time and effort and the planning into that — that's why we're at Florida State, that's why I want to coach at Florida State, and that's our attitude, and it's going to be our attitude as long as I'm there.
Q. Talked to a couple of your players yesterday. They were excited to have an opportunity possibly to play in a football Final Four. I think across the country there is an excitement. What about as far as a coaching staff to know after you win your National Championship game last year you would have had to play another game to win it? What's your perspective as a coach there?
JIMBO FISHER: I think it's uncharted territory for everyone. No one knows. No one can give a solid answer because no one has done it. And you can't say I did it — you know, I was in 1-AA playoffs, too, but that's different. It's a two-game deal and the amount of time you have off. I think we're all going to be in uncharted waters, and we have to have a plan — if we're fortunate enough to be in that situation, and we all plan to be there — of getting that calculation of how hard you work guys into that game because — before it's a one-game deal. Now — and you get to ten days after and how are you going to handle the travel back and forth and all those logistics? I think it's very critical. But everybody is going to have the same chance. Everybody is going to have the same problems and be in uncharted waters themselves. But that's the goal. If you want to be a champion, you've got to get in it, so I think the excitement will override all those things. We're looking forward to it. I think it'll be very exciting and a great challenge.
Q. All of a sudden we've had two straight freshman Heisman Trophy winners. You can speak to Jameis. Are guys just developing quicker? What are some of the attributes of him?
JIMBO FISHER: I think the game and all the seven on sevens out there, all the camps, all the quarterback coaching, I think these kids are getting a greater knowledge of football at a much younger age and we're also developing them better physically. I say kids, we don't allow kids to be kids anymore. You don't get to be — to have that childhood. We're making them grow up so much quicker — and I think the technology of the computers and the knowledge they can get on there and watching film, watching game film, listening to people talk — I think they're being developed more physically, mentally, and getting better coaching at the lower levels of ball. And I think that's allowing these kids to develop and be ready when they come into these atmospheres and environments. They're used to going out — like I said before, when you got to a class, you never knew who was in your class until you came on campus. Now, these guys know each other as juniors and they're recruiting each other because there's a Rivals Camp, an Under Armour Camp, this camp, that camp. And I think they feel comfortable. They know everybody's abilities. And I think they're all developing in all facets of the game that much quicker.
Q; Two parts: First, with Jameis Winston, biggest things you've taken away from him on and off the field so far as a leader, and secondly, going up to Syracuse and playing in the Dome.
JIMBO FISHER: I think first of all, Syracuse in the Dome is one of the great places to play in college. It's one of the unique places, extremely loud, extremely vocal, have great tradition, will be a tremendous challenge football team, no doubt about that. The thing about Jameis that amazes me is his ability to learn. The thing about Jameis that no one knows, and I think you got it yesterday, he's a genuine people person. He enjoys who he is. He loves being in front of people. If there's 300 people in a line, he'll sign every autograph before he leaves, shake every little kid's hand. He understands that. His ability to learn, his intelligence level, not just as a football player but as a person, as a student, all the things, he's a true student athlete. I think from that standpoint, his ability to learn is why he will always continue to grow and be successful because he understands mistakes, he's willing to accept them, he learns from them, he moves on, but he won't make those same mistakes twice. And I think his character and down deep who he truly is, is remarkable, and the more you're around it, the more you're amazed by him.
Q. More kind of on that, going to the Dome as a guy who grew up in West Virginia and loving that rivalry, taking your team up there, and Jameis, how he performed at Death Valley last year shows that he doesn't let that kind of environment rattle him. Talk about that.
JIMBO FISHER: Well, he didn't. I say this about environments: Environments don't bother you when you're prepared. When you do your due diligence as far as the practiced field, the film work, the game planning, you feel very comfortable and confident going into something. You know, athletes have a funny way of, as I call, blocking out the clutter and the noise. They perform. But if you're not prepared and ready, those things all get exaggerated, and they become much greater. And those things impact you because you hear everything when you're not ready for something. I think the power of preparation is very critical and that is one of the unique places to play in all of college football. Tremendous challenge and we're looking forward to going up. And I know from growing up in the state of West Virginia, those were battles, and West Virginia even though they had some good football teams couldn't go up there and win.
Q. What does Louisville bring to the ACC, maybe more specifically what do they bring to the Atlantic Division?
JIMBO FISHER: Well, I think another very incredible great football team. They're 12-1 the last two years. They won the Sugar Bowl, beat Florida. They won the bowl game last year, beat Miami. Had one loss each of the last two years. You've got to remember they had three first round draft picks last year. That's as many as any team in this country. They've got a quality program, quality coaches, quality history, and I think it's only going to enhance the ACC, and I think they're going to be a tremendous new member of our conference, and it's only going to add to our conference and our conference strength and our strength of schedule.
Q. I remember sitting next to you at Pinehurst a few years ago when Jameis had first committed, you were very excited then. He obviously bore that excitement out last year. You talked about him being a great learner. What are the one or two things you'd like to see him get better at?
JIMBO FISHER: I think he's continually getting better fundamentally. I think as a player you have to continue to grow yourself physically, and his footwork, his eye movement, his eye control, looking guys off even more. And I think understanding defenses even that much better, recognizing certain things, blitzes, scenarios, that much quicker because he can process the game and get the ball out even quicker, which he does tremendously now. But I think you can always get better in those things, and I think being patient — it's going to be a challenge to be patient because people aren't going to try and give up big plays to him this year, but acknowledge them when they're there, and just making sure you don't get bored with the game. I think sometimes great players, great teams, greatness in general, can be dethroned, for lack of a better term, from boredom. You get bored of doing the same thing over and over and over and over again, and when you have success, it's consistency and performance over a long period and you've got to do the same thing. And sometimes, it's human nature, you get bored, and I  think that's going to be a huge challenge for him.
Q. (Inaudible) Jameis says yours is the best. You set the standards for offensive lines. Do you feel like the rest of the league is catching up?
JIMBO FISHER: I definitely — we've had our share and we had to play all those guys as freshman. I remember that was tough, too. But I think it is. When you have those guys in the trenches on the offensive and defensive lines, it makes the game much easier and we have tons of experience, athleticism, and ability, and knowledge. So I mean, I think that will be a tremendous advantage for us this year.