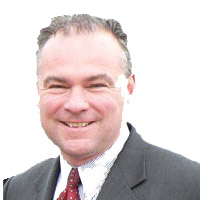 Sen. Tim Kaine has big leads on two possible big-name Republican challengers in an early, early look at his 2018 re-election race.
A new Quinnipiac University poll has Kaine up 57 percent to 36 percent on former GOP presidential nomination candidate Carly Fiorina, and up 56 percent to 36 percent on talk-show host Laura Ingraham.
In both hypothetical matchups, Kaine enjoys substantial leads among female voters. Kaine leads both Fiorina and Ingraham among women 57 percent to 34 percent.
Kaine also has significant leads with independents: with a 54 percent to 32 lead among that subset in a race with Ingraham, and 55 percent to 32 percent in a race with Fiorina.
"There is a certain similarity to how Virginia voters see Republican officials and potential GOP candidates these days. As was evident in the Quinnipiac University poll earlier this week that showed the Democratic candidates for governor were running better than their Republican counterparts, the same pattern holds true for President Donald Trump's job approval and for an early look at Sen. Tim Kaine's reelection prospects," said Peter A. Brown, assistant director of the Quinnipiac University Poll.
Kaine enjoys solid job approval: with 57 percent approving of his job performance in the U.S. Senate, and 37 percent expressing disapproval. Senior Virginia Sen. Mark Warner has a 58 percent/26 percent split on job approval.
Ingraham has a small net positive favorability: 27 percent to 22 percent, with 51 percent not knowing enough about her to have an opinion. Fiorina has a net negative: with 32 percent holding a positive view, 36 percent having a negative view, and 32 percent not knowing enough to have an opinion.
President Trump is seriously underwater in Virginia: with 38 percent giving him a favorable job approval rating, and 56 percent holding an unfavorable view.
"Both the Trump job approval and the Senate race numbers show the Democratic situation roughly 20 points better off than the GOP," Brown said. "But it would be foolish to see these numbers at this very early point in the Trump administration as anything but a bad start that may or may not remain the case in the months/years to come."