Story by Chris Graham
[email protected]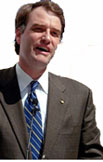 The conventional wisdom in the Fifth District Republican congressional race has been that Southside State Sen. Robert Hurt is the early frontrunner. A poll released Friday morning confrims the conventional wisdom.
Hurt leads the seven-candidate field with 22 percent of projected primary voters surveyed by Public Policy Polling this week expressing a preference for the veteran state legislator. Albemarle County Board of Supervisors member Ken Boyd is the only other candidate to register support in the double-digits, at 12 percent.
The tab undecided stands at 51 percent, indicating that there is much room for movement in the nearly four months leading up to the June primary that will decide on the Republican Party nominee.
Polling director Tom Jensen noted on the PPP blog that the large number of undecided voters could be a confirmation that the nomination could be former congressman Virgil Goode's for the taking should he decide to enter the race for the GOP nomination.
Goode lost the Fifth District seat to Democrat Tom Perriello by a narrow 727-vote margin in 2008.
Jensen also pointed to Hurt's relatively strong showing among conservatives as an indication that the seemingly brewing battle between the conservative and moderate wings over Hurt's more moderate viewpoints politically could be on the backburner. Hurt led the pack among self-identified conservative voters in the polling with 20 percent, with Boyd next at 13 percent, and 52 percent of the self-ID'd conservatives putting themselves in the undecided category.