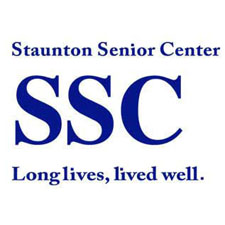 Every day next week will hold a special event at Staunton Senior Center in observance of Older Americans Month in May.
On Monday, May 13 the Program Director will read a short story at 12:15 p.m. honoring seniors, and on Tuesday at 10:45 a.m. there will be a ceremony to recognize members who are ninety years old or more (there are nine who hold that title!). Wednesday will offer a new challenge for the brain with "Crosswords" at 11:00 a.m., a giant crossword puzzle making its debut at SSC.
On Thursday, May 16, SSC opens its doors to the public as well as its members with an Open House from noon until 2:00 p.m., an especially busy day since it is Red Hat Day and May birthday celebration as well. So wear your red, purple or pink, and come on out to enjoy refreshments and the music of Quail Hill Quartet. Friday rounds out the week with a visit from the Blue Ridge Bells at 10:30 a.m. and a trip upstairs to the nTelos Theatre for the Ms. Virginia Senior America Pageant at 1:00 pm. Stop by the Center next week as we celebrate the seniors in our area!
More online at www.StauntonSeniorCenter.org.