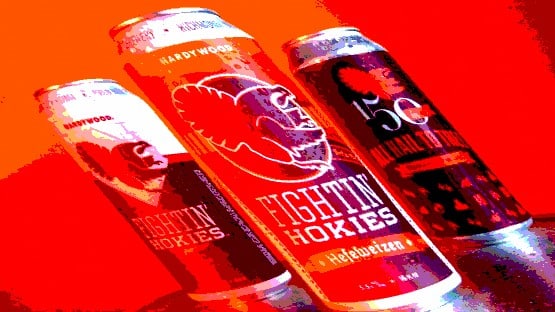 Hokie Nation has a new official beer: the Fightin' Hokies Hefeweizen, which is now available in select Virginia grocery stores, restaurants, and independent bottle shops across Virginia on draft and in 16-ounce cans.
This traditional Bavarian wheat beer — the latest brew developed by faculty in the College of Agriculture and Life Sciences' Department of Food Science and Technology as part of Virginia Tech's ongoing partnership with Hardywood Park Craft Brewery — follows the success of the award-winning Fightin' Hokies Lager and limited edition sesquicentennial dry-hopped amber ale All Hail to Thee.
Virginia Tech announced a sustainable partnership with Hardywood in fall 2020, citing Hardywood's "Brew with Purpose" philosophy and dedication to technical quality, environmental stewardship, and giving back to the community as making the popular Richmond brewery an ideal choice of collaborator.
The new seasonal hefeweizen can be found using Hardywood's beer finder throughout this fall season.
A portion of the proceeds from sales of Fightin' Hokies Hefeweizen will go to support learning opportunities, scholarships, and more for food science students. In April, undergraduates Shannon Hacker, Sam Steele, and Sofia Palacios received scholarships funded by Fightin' Hokies beer sales that will assist food and beverage fermentation students with tuition, room, and board.
"It has been very gratifying to see our partnership with Hardywood become one of the most successful university-brewery partnerships in the country," said Renee Boyer, head of the Department of Food Science and Technology at Virginia Tech. "I'm proud that we've been able to bring our brewing research to market in a way that benefits not only Virginia's economy, but also our students and the next generation of brewers."
A toast to the Department of Food Science and Technology's long-standing academic relationship with German brewers and the Technical University of Munich, Fightin' Hokies Hefeweizen is based on a beer style that has been one of the most popular in the German state of Bavaria for over 500 years.
The wheat beer is famous for its notable banana aroma, bright amber appearance, creamy mouthfeel, and smooth, slightly sweet finish that evokes notes of clove.
Fightin' Hokies Hefeweizen is 5.5 percent ABV and low in bitterness at 15 IBU.
German brewing's fingerprints can be found on many facets of the Department of Food Science and Technology's renowned brewing and fermentation program, from its on-campus brewery equipment to the technique it teaches students. The department's close relationship with the Technical University of Munich-Weihenstephan — where it sends a cohort of students each summer to learn beer-making at the site of the oldest continuously operating brewery in the world — served as the ideal inspiration when it came time to talk about what the next Hokie beer would be.
"Going over to Germany with the students each summer, we've had a lot of experience with hefeweizens right where the style was originally developed," said Herbert Bruce, assistant professor of practice for undergraduate education and one of the three Virginia Tech brewing faculty members who developed Fightin' Hokies Hefeweizen. "It's an incredible style that's not as common in the U.S., so we saw this as an opportunity to bring the best of Bavaria to Hokie Nation."
In the summer of 2022, the exchange offered a chance for brewing faculty members Brian Wiersema, Sean O'Keefe, Herbert Bruce, and Hardywood Brewmaster Brian Nelson to tour some of Germany's historic breweries and brewing suppliers in search of the best wheat beer ingredients, brewing techniques, and flavor profile guidance available.
"Fightin' Hokies Hefeweizen is the result of us traveling Bavaria going to different maltsters, hop growers, breweries like Weihenstephan and working with Sean, Brian, and Bruce," said Nelson '01. "From one Hokie to another, if you just love craft beer, I hope you enjoy it."
The new label design for Fightin' Hokies Hefeweizen pays homage to its collaborative origins and features classic Virginia Tech iconography including the vintage Fighting Gobbler trademark, the iconic silhouette of Torgersen Bridge, and an instantly recognizable Hokie Stone motif. On the back of the can, Burruss Hall looms below a map of Virginia that has the location of the university's Blacksburg campus marked with a diamond. Lozenges or diamonds from the Bavarian flag are used throughout the design as a nod to the beer's German background. The label's front graphic curves inward, mirroring the curve of a traditional hefeweizen glass.
Fightin' Hokies Hefeweizen is the third beer born out of Virginia Tech and Hardywood's partnership. Fightin' Hokies Lager, the university's first brew that launched in 2021, became Virginia's best selling new craft beer in its first year on the market, according to Nielsen. The same year, it won a silver medal in the prestigious Australian International Beer Awards — the largest annual beer competition in the world. Fightin' Hokies Lager was succeeded by All Hail to Thee, a limited edition dry-hopped amber ale released to mark Virginia Tech's 150 year in 2022.
"The experience of recipe development for this celebratory wheat beer in Bavaria with Brian Nelson — another Hokie alum — was an incredible experience," said Wiersema '98, the Department of Food Science and Technology's pilot plant manager and co-creator of all Virginia Tech beers. "The support from fellow Hokies who enjoy all of these beers has been tremendous and makes a lot of student scholarships and research in our department possible."