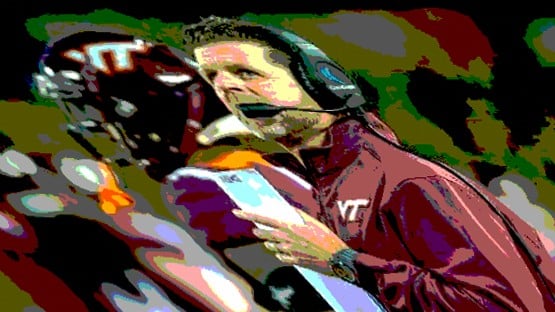 Virginia Tech doesn't play football to put up 3-8 seasons, and the folks down in Blacksburg sure don't want to get used to losing.
The last three seasons have ended with losing records. Tech hasn't had four straight losing seasons since the early 1950s.
Is there pressure on Brent Pry going into Year 2?
"We are doing what we need to do to position this program to keep moving forward. Get it back to respectability. Football matters at Virginia Tech. That's what I'm just constantly reminded of, how important it is here to our fan base, our community, the university, and I love that. It's how it was when I was here in the '90s. And we're gonna get it back," Pry said at the program's media day last week.
The forecast has the Hokies in line for what would be another sub-.500 record this fall, but you can probably still write that off on Justin Fuente, whose tenure started trending in the wrong direction with the loss at the end of the 2019 regular season at Virginia, in a game that would have sent the Hokies to an ACC title game.
Hendon Hooker left after the 2019 season for Tennessee, where he put up video-game numbers, and that was the beginning of a talent drain that is still being felt at Tech.
"We're building a program here in from the ground up. You know, it's something that our players hear me say a lot, they see it in PowerPoint presentations. You know, we're 100 level, and working our way up. And that's with everything," Pry said.
"We want to build a modern, sustainable program, but it takes time. And we're doing things the right way. We have the support, as I mentioned, we're making progress in the right direction. We are moving the needle. We're doing a good job in our footprint from a recruiting standpoint, which was something that was very important to us on the onset. And then also developing players within our program, on and off the field, developing maturity, developing skill sets, developing an attitude and mentality that we can win with."
The biggest thing is going to be on the recruiting trail. Fuente, famously, preferred Texas kids, for whatever reason, even though Virginia is fertile ground for football recruiting.
Pry's 27-member Class of 2023 included 13 Virginia prep recruits, but only two were ranked among the top 20 in the state – cornerback Antonio Cotman Jr. (Life Christian Academy, Colonial Heights, 16th) and edge rusher Jason Abbey (Freeman High School, Richmond, 19th).
Looking ahead to the Class of 2024, though, Pry already has commitments from three of the top 10 players in Virginia – wideout Keylen Adams (Green Run High School, Virginia Beach, fourth), edge rusher Gerard Johnson (Frank W. Cox High School, Virginia Beach, sixth) and wideout Chanz Wiggins (King George High School, King George, ninth).
The renewed emphasis on recruiting the Commonwealth is something that is being noticed by high school coaches.
"The thing I probably hear the most is, they're just so glad to see us back invested in the Commonwealth. That's the biggest feedback I get. They're excited that we're back recruiting the state, we're invested in it," Pry said.
It's worth noting here that Pry's ACC rival up the road in Charlottesville, Tony Elliott, also in Year 2 of his rebuild at UVA, is also putting a fresh emphasis on recruiting in Virginia after taking over for a coach (Bronco Mendenhall) who didn't prioritize Virginia high schools the way you'd like to see, given the state's talent pool.
Elliott got one top 20 recruit from the state in 2023 (linebacker Kam Robinson, Essex High School, Tappahanock, 11th), and he Elliott doesn't have a single top 20 recruit from Virginia yet in 2024.
The bigger issue for both Elliott and Pry is that the big boys are coming in and taking our players away. Five of the top 10 for 2024 are headed to the SEC (two to Georgia, one each to Tennessee, Florida and South Carolina), for instance.
Those guys – the Ronde Barbers, the Michael Vicks, the Chris Slades, the Bruce Smiths – used to stay home and win games at UVA and Tech.
"You know, we're not going to win all the battles. I'd like to win more than we lose. And we're working in that direction," Pry said. "But we're putting the time in. And I think what's rewarding is people recognize that coaches, letterman, the community, the fan base, they recognize that we're putting the time in in the state of Virginia."