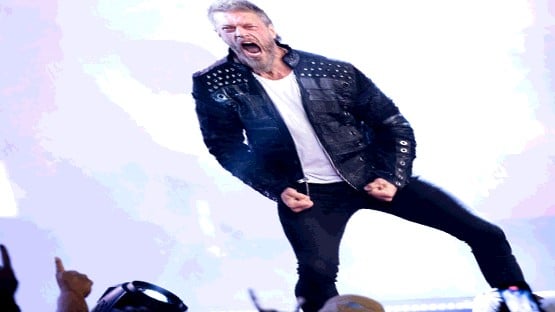 Adam Copeland, WWE's Edge, debuted in AEW Sunday at the WrestleDream pay-per-view, and entered the Climate Pledge Arena in Seattle to the entrance song he has used since 2004, "Metalingus," by Alter Bridge.
AEW is also referring to Copeland as the "Rated R Superstar," the nickname that WWE had used for him dating back to 2005.
The how they did that on the nickname is easier: WWE allowed the trademark on "Rated R Superstar" to expire in 2020, so that one was fair game.
Seems unusually sloppy on the part of WWE to leave that one out there.
The backstory to the song: unlike many WWE entrance songs, "Metalingus" wasn't produced in house.
"Alter Bridge are my friends, Mark Tremonti, who wrote the song, is a very good friend, so that sound is with me wherever I go," Copeland told reporters at the post-WrestleDream media scrum on Sunday night.
This is also sloppiness on the part of WWE, and why that company uses WWE-produced music for its talent's entrances – so they can't take their music with them when they go.
Copeland told the story at the media scrum of how he came upon "Metalingus" as his entrance music.
"From the first time I heard it in Mark's house, after I dropped a beer in his foyer after just meeting him, he played that for me with his scratch lyrics on it, and I was out with a neck injury. I was like, Can I have that song? He was like, Absolutely, dude," Copeland said.
Getting the rights to "Metalingus" for his AEW entrance was "very important to me," Copeland said.
"I've always been very musically motivated, and I think it sets the tone for a character, and it also sets the tone for Adam, to get in that place," Copeland said.
He approached Tremonti as he was setting himself for the move to AEW about the rights to the song.
"I called Mark and I said, Hey, what'd you think. He was, Absolutely, absolutely, dude, that answer is not going to change, and that was really, really pivotal, important to me, because it would have felt weird coming out to something else," Copeland said.
How did AEW keep the secret?
There's always somebody who ruins the surprise online – a person sees a wrestler at the airport the night before, runs into the guy at a hotel, a dude working catering texts a reporter for one of the dirt sheets during the show.
The Adam Copeland secret didn't get revealed.
It almost did, though.
"Oh, man, I was sequestered. I sequestered myself in a hotel room," Copeland told reporters at the media scrum.
For the record, the hotel was in Redmond, Wash., 15 miles east of Seattle.
Copeland said he flew into town on Friday night, and his body man was AEW star Darby Allin, a Seattle-area native.
The chamber of commerce in Redmond isn't going to use Copeland as a testimonial for getting people to want to visit.
"I mean, we were in some sketchy neighborhoods, like, Darby took us to some sketchy places, it was like, ain't nobody here gonna worry about, like, Adam Copeland would be in here kind of thing, right," Copeland described his two days in isolation.
Where his cover was almost blown was when he left the hotel to get a cheeseburger.
"So, I'm in there, and I'm sitting there and reading my book, because I bring a book everywhere when I eat, and I looked up, and …"
A kid, obviously a wrestling fan, recognized Copeland.
"And I'm like, shhhh, OK, OK," Copeland said.