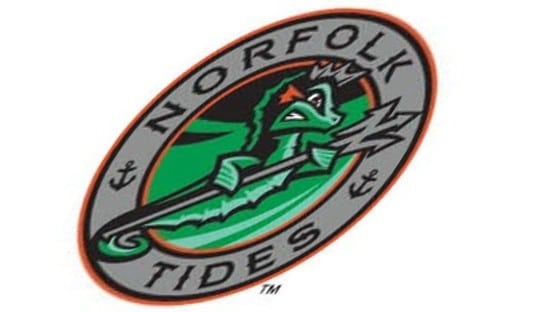 The Norfolk Tides (74-47) defeated the Durham Bulls (68-54), 3-1, on Wednesday night at Harbor Park.
The win puts the Tides, the Triple-A affiliate of the Baltimore Orioles, at 13-4 against the Bulls, the Triple-A affiliate of the Tampa Bay Rays, clinching the best season record against Durham in Orioles affiliate franchise history.
Neither team scored through the first four innings. Tides starter Justin Armbruester ended up lasting 5.0 innings without allowing a run. He gave up a hit and two walks while striking out six.
He would end up exiting as the pitcher of record because Norfolk went on to score three runs in the fifth. With the bases loaded, Connor Norby scored on a wild pitch to break the game open. In the same at bat, Coby Mayo blooped a broken-bat two-run double down the right field line to put the score at 3-1.
The only run for Durham came in the seventh when Tristan Gray hit a solo home run in the seventh inning. The Tides bullpen was lights out from there, with Tyler Wells tossing a scoreless eighth and DL Hall closing the game for his first save of the season, as Norfolk won 3-1.
Norfolk is back in action tomorrow afternoon for Game 3 of the series with first pitch scheduled for 12:05 p.m. Scheduled to take the hill for the Tides is LHP Bruce Zimmermann (3-5, 3.63) while RHP Nathan Wiles (5-1, 5.40) is expected to start for the Bulls.