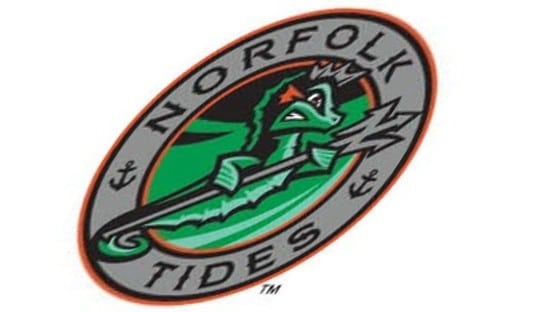 The Norfolk Tides (76-48) rallied back from a 10-run deficit to defeat the Durham Bulls (69-56), 13-12, on Saturday night at Harbor Park.
Three consecutive singles by Durham batters capped by a Curtis Mead base knock to begin play brought the first run of the game across for the Bulls, the Triple-A affiliate of the Tampa Bay Rays, in the opening frame.
A seven-run second inning for the Bulls began with a two-run home run off the bat of Kameron Misner. Later in the frame, back-to-back doubles from Mead and Austin Shenton scratched three more runs. The second home run of the game for Durham came courtesy of Niko Hulsizer who blasted one the other way for a two-run shot that gave the Bulls an 8-0 lead.
Norfolk, the Triple-A affiliate of the Baltimore Orioles, responded with a run in the bottom of the second when Coby Mayo launched an opposite field home run to put a tick in the run column for the Tides.
The Bulls went on another scoring spree in the third, plating three runs in the frame with Ruben Cardenas driving in two on an RBI single and Mead driving in a run for the third consecutive inning to extend the Durham lead to 10.
In the home half of the frame, Heston Kjerstad drove in a run with a one-out double to left field.
The Tides put together a six-run inning in the fifth beginning with a Joey Ortiz sac fly. With runners at the corners for Mayo, he blasted his second home run of the game, a three-run shot that brought the Tides within five. Josh Lester checked in with a two-run blast later in the frame to bring the game to an 11-8 score, capping the scoring for Norfolk.
Both sides traded runs in the sixth with Raimel Tapia and Ortiz collecting RBI singles. An errant throw in the seventh allowed Mayo to motor around the bases and score, cutting the deficit to two. With a runner aboard for Kyle Stowers in the eighth, he jumped on an 0-1 pitch and bounced it off the scoreboard to tie the game at 12 apiece.
The Tides opened the bottom of the ninth with consecutive singles as Daz Cameron moved up to third on the latter of the two hits. Lewin Díaz wasted no time as a pinch-hitter by ripping a single up the middle to win the game for the Tides, 13-12.
Norfolk is back in action tomorrow afternoon for the series finale against Durham with first pitch scheduled for 4:05 p.m.
Scheduled to take the ball for the Tides is RHP Chayce McDermott (3-1, 2.31) and the Bulls will send RHP Taj Bradley (2-5, 6.95) to the hill.