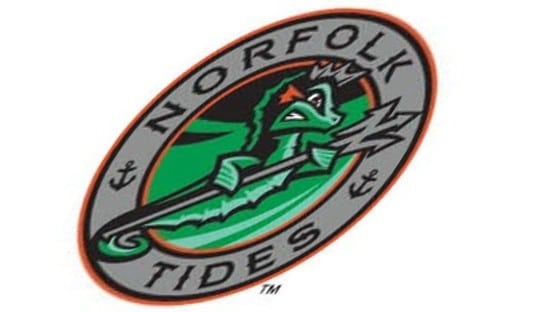 The Norfolk Tides (77-49) defeated the Worcester Red Sox (70-56), 8-6, on Tuesday night at Polar Park.
After a scoreless first frame, it was Worcester, the Triple-A affiliate of the Boston Red Sox, who struck the first blow tonight as Yu Chang muscled up in a full count in the second for a three-run home run that put the Red Sox on the scoreboard.
The Tides, the Triple-A affiliate of the Baltimore Orioles, responded quickly in the third as Heston Kjerstad checked in with an RBI triple to put a tick in the run column for the Norfolk, dipping into the Worcester advantage.
Later in the frame, Kyle Stowers got a 2-1 pitch he could handle and deposited it over the left-center field wall for a two-run blast that scored Kjerstad, tying the game at three a piece in the third inning of play.
The Red Sox put more traffic on the basepaths in the home half of the third and scratched two runs with a two out single from Bradley Zimmer, putting Worcester back in front by a 5-3 score.
After a pair of productive outs in the top of the fourth, Connor Norby legged out an infield single to cut the deficit in half, bringing in a run on the play. The Red Sox responded with a solo blast off the bat of Ronaldo Hernandez in the bottom of the fifth to go back up by two runs.
With the bases chucked and one away in the seventh, a throwing error by the Worcester shortstop on a double play attempt allowed two runs to cross in favor of Norfolk, tying the game once again, this time at six runs even.
In the ninth with the game still deadlocked, Coby Mayo stepped up to the plate and blasted a two-run shot that gave Norfolk their first lead of the game. Wandisson Charles took the ball to close it out in the ninth, securing an 8-6 Tides win.
Norfolk is back in action tomorrow night against Worcester with first pitch scheduled for 6:45 p.m. Scheduled to take the hill for the Tides is RHP Justin Armbruester (2-2, 3.67) while LHP Shane Drohan (4-6, 6.39) is expected to make the start for the Red Sox.