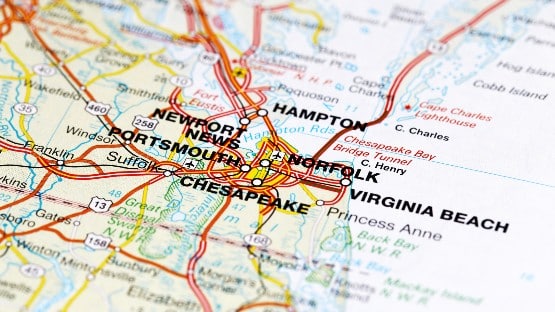 A Norfolk man will get three years in prison after pleading guilty to carjacking a man he met online.
Keshawn Hunt, 20, carjacked the victim at gunpoint, according to court documents, after agreeing online to meet on Jan. 16.
The victim, who identifies as a man, had initially been representing himself online as a woman interested in dating Hunt, but confessed his true gender identity before the two agreed to meet.
Hunt, while wearing a face mask, met with the victim that day, got into the victim's car, and told the victim to drive to a secluded location near the intersection of Tidewater Drive and Bellevue Avenue.
Hunt then produced a firearm, ordered the victim to get out of the car, and drove off in the victim's car with the victim's cell phone.
Later that same day, Hunt sold the victim's cell phone to at a self-service kiosk at a Walmart in Suffolk. Police officers tracked the cell phone to the Walmart and attempted to apprehend Hunt — still driving the victim's car — by pulling him over, but Hunt fled.
Hunt eventually abandoned the victim's car and evaded the officers on foot, but officers seized his cell phone and photo identification from the abandoned car.
Surveillance footage from Walmart also depicted Hunt utilizing the kiosk.
Hunt was arrested in February and initially declined to answer investigators' questions, but he told a magistrate at the time he was charged that he "did what I had to do" due to the victim's allegedly misleading statements about his identity.
Hunt pleaded guilty on May 20 to felony carjacking, the use of a firearm in the commission of a felony, and wearing a mask while committing a felony, and Judge Robert B. Rigney accepted his plea.
On Friday, Judge Rigney sentenced Hunt to three active years in prison, with an additional two years suspended on the conditions that he have no contact with the victim and that he complete two years of uniform good behavior and two years of supervised probation.