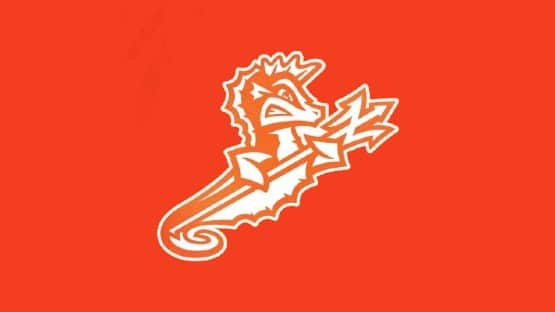 The Norfolk Tides (81-52) fell to the Jacksonville Jumbo Shrimp (66-67), 9-7, in 10 innings on Wednesday night at Harbor Park.
The Tides, the Triple-A affiliate of the Baltimore Orioles, now find themselves on a three-game losing streak after winning five straight prior.
Jacksonville, the Triple-A affiliate of the Miami Marlins, scored first again tonight when Jerar Encarnacion knocked an RBI single in the second inning. They scored again in the fourth when Brian Miller knocked a two-run single to put the Jumbo Shrimp up, 3-0. Those would be the only runs Tides starter John Means allowed. He lasted 5.0 innings, allowing the three runs on six hits and two walks while striking out four. He also induced two double plays.
Means exited as the winning pitcher of record after the Tides scored a run in the fourth, then a four-spot in the fifth. Shayne Fontana broke the shutout in the fourth with an RBI single. In the fifth, Lewin Díaz knocked in the first two runs on a single. Josh Lester followed him with an RBI single to put runners on first and third. Fontana came through again in the fifth on a sac fly to right field, putting the Tides up 5-3.
The Jumbo Shrimp came right back with three runs in the sixth and retook the lead. Their first run crossed after a runner scored from second on a single, then an error in the outfield. Brian Miller knocked in the tying run on an RBI single. The go-ahead run scored on an RBI double by C.J. Hinojosa to put them up 6-5. One more run would score for Jacksonville in the seventh when Peyton Burdick knocked a sac fly to center to go up 7-5.
The Tides chipped away in the eighth when Colton Cowser bounced an RBI double down the right field line to score Jackson Holliday from first to make it a 7-6 game. In the ninth with two outs, Josh Lester extended the game after launching a game-tying solo home run. However in the 10th, Encarnacion came up clutch for Jacksonville with a two-run homer to put the final score at 9-7.
Game 3 of the series is set for tomorrow, with first pitch at 12:05 p.m. after a quick turnaround. The Tides are scheduled to throw RHP Garrett Stallings (5-4, 6.51), while Jacksonville's probable is RHP Jeff Lindgren (6-5, 5.26).