– School Board meeting moved back
– Bridgewater College receives $124K scholarship grant
– EMU students win counseling ethics competition
– Farm, rural business profitability focus of upcoming forum
Edited by Chris Graham
[email protected]
School Board meeting moved back: The Waynesboro Public Schools will postpone the Tuesday, Feb. 9, Waynesboro School Board Meeting. The meeting has been rescheduled for Thursday, Feb. 11, at 7 p.m. at Kate Collins Middle School in the auditorium.
Bridgewater College receives $124K scholarship grant: The trustees of the Lettie Pate Whitehead Foundation have awarded Bridgewater College $124,000 to be used for need-based scholarships during the 2010-11 academic year, it was announced on Monday.
Bridgewater will receive one-half of the grant money on Aug. 1 and the balance on Dec. 15. The entire grant award will be used for scholarships in the 2010-11 academic year.
The Lettie Pate Whitehead Foundation was established in 1946 by Conkey Pate Whitehead as a memorial to his mother. The primary purpose of the foundation is to provide need-based scholarships to deserving Christian women in Alabama, Florida, Georgia, Louisiana, Mississippi, North Carolina, South Carolina and Virginia.
More than 200 institutions participate annually in the Lettie Pate Whitehead scholarship program. Thousands of women receive financial assistance each year in individual amounts determined by the recipient institutions.
While most of the Lettie Pate Whitehead scholarships go toward undergraduate higher education, the Foundation maintains a special interest in health education. A significant number of its scholarship grants support education in the medical, nursing, and allied health care fields.
Bridgewater College, a private, four-year liberal arts college, enrolls more than 1,500 students. Founded in 1880 and located in the Central Shenandoah Valley of Virginia, it was the state's first private, coeducational senior college.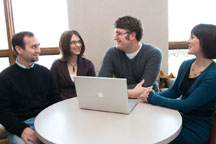 EMU students win counseling ethics competition: A team of Eastern Mennonite University students in the master of arts in counseling program received a first-place award in the annual national Graduate Student Ethics Competition sponsored by the American Counseling Association (ACA), Alexandria, Va.
Zachary Taylor, West Columbia, S.C.,; Erin Constable, Moncton, New Brunswick, Canada; Tara Kreider, Harrisonburg; and Thomas Smith, Hillsboro, Kan., were among teams nationwide who submitted essays in the
masters level competition. Each essay was reviewed by members of the ACA ethics committee.
The case study involved a counseling intern in a college counseling center. The scenario related to the counselors identity as a white suburban male working with a Latina student discussing her experience with childhood abuse. She reported having taken a covert action that seemed to have contributed to her abuser's early death. The study contained multicultural, boundaries of competence and mandated reporter issues.
The team prepared a 15-page paper identifying what they believed the dilemma to be, what they felt the most ethical actions should be, the justification for their proposed actions and a description of the decision-making model used in reaching that decision.
Linda Leitch-Alford, associate professor of counseling, teaches a course on professional applied ethics, which the students drew from in preparing their essay.
"To have received first place in this national contest is a statement of the quality of students in our program," Dr. Leitch-Alford said. "The award is also a significant affirmation of their abilities to apply academic learning to professional situations with excellence. It gives us confidence that they will serve their future clients well," she added.
Each first place team member will receive a $75 gift certificate to the ACA Bookstore, an ACA Ethics Competition winner's certificate and a letter of recognition from ACA President Lynn Linde. These will be presented to the EMU team – as well as the two other winning master's level teams and the top three doctoral level winning teams – at the ACA Annual Conference & Exposition in Pittsburgh, Pa., during the ACA National Awards Ceremony March 21.
Student names, institutions and winning responses of the winning master's and doctoral teams will also be published in the (month) edition of "Counseling Today" magazine and posted on the ACA website at www.counseling.org.
EMU has 37 students currently enrolled in its MA in counseling program, which is accredited by The Council for Accreditation of Counseling and Related Educational Programs (CACREP). The program offers a 60-semester hour, CACREP-approved track that prepares students for clinical practice as a licensed professional counselor and a dual degree that enables a student to earn both a master of divinity and an MA in counseling degree in less time than if both were pursued separately.
Farm, rural business profitability focus of upcoming forum: The sixth annual Forum for Rural Innovation will be held Friday, March 19, 8 a.m. to 3:30 p.m. at the Best Western Lee-Jackson Motor Inn & Conference Center in Winchester.
The purpose of the forum is to showcase new and exciting projects and programs that enhance farm or rural business profitability. The models presented at the forum also focus on conserving farmland and natural resources, and developing new approaches to rural prosperity in upscale areas where land commands premium prices.
The program features presentations from some of the most progressive and recognized farmers and researchers in the region, and will emphasize farming for high-profitability by using innovative and sound business approaches particularly suited to the Mid-Atlantic region.
Forum topics and speakers will include:
– "Trends and Opportunities in Specialty Crops and Cane Berries"
Dr. Reza Rafie, horticulture extension specialist, Virginia State University, Petersburg. Hear an overview of the potential for marketing cane berries and related specialty crops in the Mid-Atlantic region. Also, details of a high tunnel specialty crop trial to be conducted in Northern Virginia in 2010.
– "Internet Marketing 201 – Social Networking As A Marketing Tool"
Janet Childs, owner and marketing director of BreedersWorld.com and VA Lamb, Berryville. Learn how to use low cost, highly effective new tools that get your message and products in front of customers faster than websites alone. A step-by-step presentation on starting and maintaining a cost effective marketing program.
– "Step-By-Step Process For Direct Marketing Meat and Processed Foods"
Barry Jones, Office of Meat & Poultry Services, Virginia Department of Agriculture and Consumer Services, Lynchburg, and Cindy Martel, marketing and development, W.Va. Department of Agriculture, Charleston, W.Va. Thinking about selling at a farmers market or doing direct sales? This session will answer your questions on what producers need to do to comply with state regulations in order to sell meats and processed foods. Find out if the investment of time and equipment adds value to the bottom line.
– "What I See As Food Innovation in the Mid-Atlantic Region"
Melissa Harris, publisher of Flavor Magazine, Sperryville. Flavor Magazine is an independent publication dedicated to local food, wine, and sustainable agriculture in the D.C. and Virginia Piedmont areas. Learn how this unique regional magazine discovers innovative farms for their articles and hear about some of their favorites.
– "Innovative Ideas for Large Acreage Land Owners and Renters"
Warren Howell, Allder School Berries, Purcellville; Phillip Ramsey, Stoneleigh Farms, Warrenton; and Tyler Wegmeyer, Wegmeyer Farms, Hamilton. What do pumpkins, honey bees, and berries have in common? Hear how these three entrepreneurs have expanded their operations onto larger acreages, and the unique lease arrangements for non-traditional crops.
– "New and Successful Innovative Projects from Across the Region"
A snapshot of efforts being conducted in agriculture development and marketing by members of the group sponsoring the Forum for Rural Innovation. Kellie Boles, Jefferson County, W.Va.; Ray Pickering, Fauquier County; Melissa Nelson, Loudoun County; Mary Beth Bennett, Berkeley County, W.Va.
The registration fee of $35 per person includes the forum program, morning refreshments, and a buffet lunch. Registration information is available online at www.LoudounFarms.org or by calling 703.777.0426. Pre-registration by March 12 is required.
The Forum for Rural Innovation is a cooperative educational effort by the Offices of Agricultural Economic Development and Cooperative Extension in Clarke, Fauquier, Frederick and Loudoun Counties of Virginia; Jefferson and Berkeley Counties, West Virginia; Potomac Headwaters and Shenandoah RC&D; Virginia Cooperative Extension and WVU Extension.