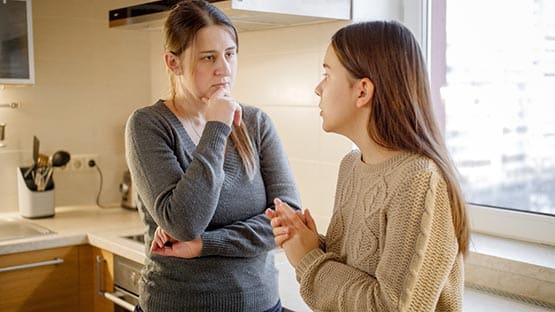 Parents and educators have a new resource when it comes to helping the kids they love. With so many things facing today's teens, from drug misuse to mental health struggles and social media overload, now more than ever, guidance is needed to help with complex issues.
A new weekly podcast has been launched to help with parenting, addiction and mental health. The Mayo Lab Podcast with David Magee launched Feb. 28 with the goal to bring together the best thought leaders in various arenas so parents, educations and students can learn from them in one place.
"The problem has never been a lack of information," said Magee, a national recovery advocate. "It's the opposite. There are so many voices coming from so many perspectives that parents and educators can't process the message. We are forced to cobble together a patchwork quilt of solutions out of scattered, siloed resources."
A new report by the CDC points to an unprecedented rise in suicidal thoughts by teenage girls.
The podcast will share research-based insights and guidance to equip parents and educators to start a conversation in their own lives.
"Our hope is to change the conversation on how we approach this crisis – across the many types of issues, ages of children, and kinds of individuals," said Magee. "While most conversations focus on the 'How do we make substance misuse stop?' question, ours also focuses on the mindset that will replace it. That's the joy piece. It's just a more holistic approach."
The podcast is available at https://themayolab.com.
While the roster is still in development, here's what the month of March looks like:
3/7: What Good Fraternity Culture Looks Like with Adam Downs, Founder of What Good Looks Like
3/14: How Can Students Get and Stay Sober in High School? with Travita Godfrey, Principal of Fortis Academy, Houston, Texas
3/21: Is Adderall Overprescribed? with Sujith Ramachandran, Assistant Professor of Pharmacy Administration, University of Mississippi
Future topics will include teen sleep deprivation, the risks of marijuana use in teens, the harm wreaked by social media, the dangers of fentanyl, the struggles of teachers and more.
Interspersed with these episodes, every few weeks, Magee and his team will hold mini "recap" episodes. In them, they'll discuss the topics explored in the previous full-length episodes and provide practical tips and tools parents and teachers can start putting into practice right away.
Magee is no stranger to the issues teen face. In 2013, his son, William, died from an accidental drug overdose. (He shares this story in his award-winning book Dear William: A Father's Memoir of Addiction, Recovery, Love, and Loss.)
His other two children have also suffered the ravages of mental health disorders and substance misuse, and Magee himself has battled substance misuse prior to his recovery.
Since then, Magee has traveled the country, speaking to both parents and children as part of his work with The Mayo Lab. His experience, humility, and honesty allow him to engage both audiences in a way that gets heard and inspires positive change.
"Life is much harder for our children than it was for us," said Magee. "The problems of this generation feel too big for us to handle on our own. Our families, schools and communities need help. We fervently hope that this podcast, and the other work being done by The Mayo Lab, will make a difference in a time when it is so desperately needed."
Holding conversations with teens should be a top priority for parents.
Tips for reaching your teen
Educate yourself.
Hold regular conversations to normalize how teens are feeling. Make it a priority to engage with your teens over meals and activities.
Ask open-ended questions. Too many parents preach or hold one-sided conversations with our children. Resist this urge. Instead, ask questions focused on how they feel, rather than thrusting your angst and fear upon them.
Listen closely and you may hear clues. The word "anxiety" is one. Magee calls anxiety the "safe word" for today's generation. While they may not admit to substance misuse or depression, they will often claim anxiety. This is your cue to continue asking open-ended questions.
Resist the urge to tell them how they should feel. As parents, our instinct may be to say things like, "You have so many friends!" or, "You've got that big game coming up—there's so much to be happy about!" While we may do this with pure intentions, it is not helpful. If we really want to know our child, we must do less telling and more listening.
Share relatable stories when appropriate. Likewise, you might tell stories of others who have had success in treatment or recovery, like friends or family members who don't mind being used as an example.
"Engaging with your teens this way is just as important as putting food on the table," Magee said. "You wouldn't think of not nourishing your child's physical health with regular meals. The same goes for nourishing their mental health. These conversations, along with ensuring that teens get plenty of sleep and exercise and limit their time on social media, go a long way toward changing their reality."
Related stories
Majority of teen girls feel sad, hopeless; 'need more support to thrive'
Teens: Are you worried about a friend? Start with asking, 'Are you OK?'
Mental health screenings will help K-12 schools support social-emotional skills
The school threat epidemic in Shenandoah Valley and the mental health of students: What can schools do?
Mental illnesses added to CDC list of higher risks for COVID-19