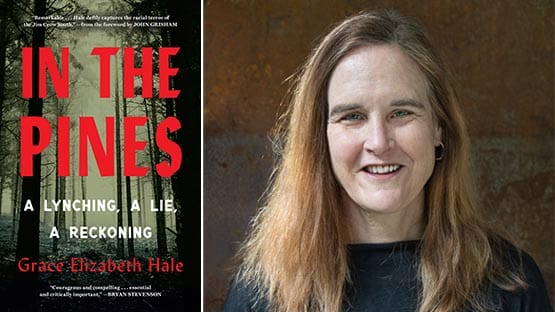 New Dominion Bookshop will host a book talk and signing with author and UVA professor Grace Elizabeth Hale on Friday at 7 p.m.
Hale will be speaking about her new nonfiction book, In the Pines: A Lynching, A Lie, A Reckoning, which from Little, Brown. An audience Q&A will follow.
This in-person event will be free to attend and open to the public.
In the book, an award-winning scholar of white supremacy tackles her toughest research assignment yet: the unsolved murder of a Black man in rural Mississippi while her grandfather was the local sheriff—a cold case that sheds new light on the hidden legacy of racial terror in America.
Hale was home from college when she first heard the family legend. In 1947, while her beloved grandfather had been serving as a sheriff in the Piney Woods of south-central Mississippi, he prevented a lynch mob from killing a Black man who was in his jail on suspicion of raping a white woman—only for the suspect to die the next day during an escape attempt. It was a tale straight out of To Kill a Mockingbird, with her grandfather as the tragic hero. This story, however, hid a dark truth.
Years later, as a rising scholar of white supremacy, Hale revisited the story about her grandfather and Versie Johnson, the man who died in his custody. The more she learned about what had happened that day, the less sense she could make of her family's version of events.
With the support of a Carnegie fellowship, she immersed herself in the investigation. What she discovered would upend everything she thought she knew about her family, the tragedy, and this haunted strip of the South—because Johnson's death, she found, was actually a lynching. But guilt did not lie with a faceless mob.
A story of obsession, injustice, and the ties that bind, In the Pines casts an unsparing eye over this intimate terrain, driven by a deep desire to set straight the historical record and to understand and subvert white racism, along with its structures, costs, and consequences—and the lies that sustain it.
Hale is the Commonwealth Professor of American Studies and History at the University of Virginia.
Hale is the author of three previous books, including Making Whiteness: The Culture of Segregation in the South, 1890–1940.
New Dominion Bookshop is located at 404 E. Main St. on the Downtown Mall in Charlottesville.
For more information, visit ndbookshop.com.