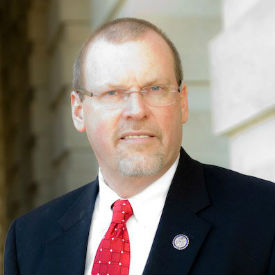 During the recent congressional district work period, I had a chance to spend some time at Virginia Tech. While on campus, I met with some of the talented people who work and study there and heard firsthand about their important research and development projects. Some of their work promises great benefits for the economy and the quality of life, both here in Virginia and across the country.
My first appointment was with Dr. Roe-Hoan Yoon and the team at the Center for Advanced Separation Technologies. I've met with him several times over the years, and he spoke at a symposium on the future of coal I convened in 2016 in Wise.
His work focuses on developing processes to extract rare earth elements (their rarity is due to the difficulty of extraction) from coal byproducts. Viable extraction techniques would provide the American economy with a new supply of rare earth elements, which are prized for advanced manufacturing purposes.
A new supply pipeline of rare earth elements would bring benefits for the economy and jobs. It also would serve national security purposes, as right now the United States almost entirely depends on China for these resources.
At our meeting, Dr. Yoon updated me on progress in this field. A consortium of universities, including Virginia Tech, is moving forward with testing extraction methods. The consortium won a $2 million grant from the U.S. Department of Energy last fall for a pilot project to test a hydrophobic-hydrophilic separation process to produce clean coal and specialty carbon products for discarded coal wastes.
I have been happy to support the consortium's work by encouraging the Federal Government to fund such projects, and I am excited by the potential they hold for a coal breakthrough.
The next meeting of the day regarded the work at Virginia Tech's Sustainable Water Infrastructure Management (SWIM) Center, led by Dr. Sunil Sinha, partially funded by a federal grant.
Clean water is important for health and safety, but aging infrastructure and uninformed maintenance strategies can hinder access to it. We remember the tragic situation in Flint, Michigan, where lead poisoned the water.
SWIM's mission will help to prevent future failures by gathering data on water infrastructure systems nationwide. Collecting, securely maintaining, and analyzing this data will contribute to a better and broader understanding of our water infrastructure's status. For example, it can indicate the reliability of various pipe construction materials in the area and the conditions that surround them. Factors like the type of soil or the proximity of railroad tracks can affect the lifespan of a pipe.
The data will be housed with Virginia Tech's PIPELINE infrastructure DATABASE (PIPEiD), which aims to provide uniform standards for water infrastructure data and centralize it in a geographic information system (GIS), essentially providing a map of the data. This database will help municipalities large and small visualize their infrastructure issues.
I was struck by the usefulness of this approach, and during our meeting I noted that a similar mapping process would be helpful in addressing another critical infrastructure issue: broadband access.
As it happens, during the same week that I visited Virginia Tech, a pilot project was announced that would take a step toward mapping broadband availability. The Broadband Mapping Initiative, conducted by USTelecom and a consortium of broadband companies, is launching a pilot project in Virginia and Missouri that will develop tools and gather information to understand where broadband is – and more importantly isn't – available.
I am glad to see that Virginia was chosen as one of the pilot states for this initiative. This data will be gathered and shared with consumers as well as the Federal Communications Commission and will hopefully be a productive step towards accurate and comprehensive broadband maps.
These various projects are examining different challenges that face our society and economy today, but they have much in common, including a commitment to research and evidence and cooperation among partners in the private, public, and higher education sectors. I think they offer a model for problem solving. And they are happening in our part of Virginia.
If you have questions, concerns, or comments, feel free to contact my office.  You can call my Abingdon office at 276-525-1405 or my Christiansburg office at 540-381-5671. To reach my office via email, please visit my website at www.morgangriffith.house.gov. Also on my website is the latest material from my office, including information on votes recently taken on the floor of the House of Representatives.