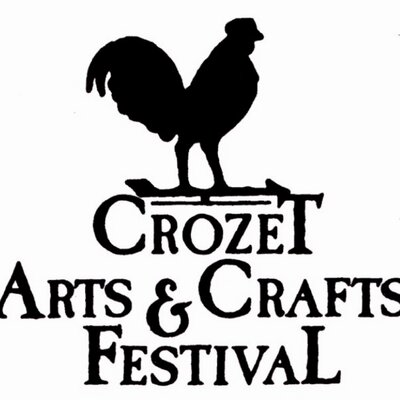 The Festival Stage at the 35th annual Crozet Fall Arts and Crafts Festival will be filled all weekend long with talented local musicians and dancers. Come out and tap your toes to the beat, or even break out your dancing shoes! Our Festival Stage is sponsored by WTJU, 91.1 FM.
Singer/songwriter Sue Harlow, from Louisa Virginia, starts the lineup with two sets on Saturday morning. Drawing on the great Americana/Folk singer tradition, Harlow's original songs tell stories to which listeners can relate – tales of love and loss, happy times and sad.
Next up is Irish Matthew, a one-man-band featuring Matthew O'Donnell on vocals, accordion, tenor banjo, guitar, fiddle, concertina, and bodhran. A regular on Charlottesville's Downtown Mall, Irish Matthew draws a crowd with his Irish traditionals and shanties, played with true devotion to their musical heritage.
For a little change of pace, we next introduce Failure to Communicate: a middle-school rock band originally organized through the Stacy's Music "Highway to Rock" program and featuring Tess Majors (vocals), Hannah Fowler (guitar), Evan Sposato (guitar), Zach Bowen (drums), Ian Lassetter (keyboard), and Summer Smith (bass).
Charlottesville favorites Red and the Romantics close out the Saturday schedule, returning to the Crozet Arts and Crafts Festival by popular demand and bringing the full five-piece band this time! Best described as polka-infused honky-tonk, Red and the Romantics members encompass an abundance of musical experience and diversity, ranging from gospel church music to rock 'n' roll, brought together and shared through the original songwriting of Erik "Red" Knierim.
The Sunday schedule begins with a rollicking performance from the Skyline Country Cloggers. A non-profit clogging team in central Virginia, the Cloggers promote the rich heritage of American clog dancing through lessons and performances at many local events and Festivals.
Barbara Martin graces our stage with two sets of Jazz and Blues — standards and originals — in the middle of the day on Sunday. With a background in country, folk, New-Wave rock and the singer-songwriter circuit, Martin brings a depth of musical experience to her most compelling and comfortable niche.
Sunday afternoon, join in with musicians, artists, and educators Michael Wright and Kate Walter singing old-time folk and traditional tunes. Guitar, banjo, mandolin, fiddle, and harmonica accompany a repertoire ranging from Appalachian folk songs to classic rock, with a healthy dose of Bob Dyan and the Grateful Dead. You will be clapping, dancing, and joining in on the chorus!
In our Children's Area, we welcome Kim and Jimbo Cary, who will be performing throughout the weekend. Sponsored in part by the Virginia Commission for the Arts, Kim and Jimbo are an interactive folk music duo inspiring children and their families to participate with a variety of percussion instruments available.
The Crozet Fall Arts and Crafts Festival will take place Columbus Day weekend,October 10 & 11. Hours are Saturday 10-5:30 and Sunday 10-5. Adult admission is $6, kids under 12 are free and parking is free. Learn more and preview the participating Artist Exhibitors online at www.crozetfestival.com.