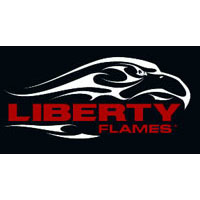 Liberty will once again have each of its football games televised during the upcoming 2014 season, including broadcasts on LFSN, ESPN3 and ASN.
The Liberty Flames Sports Network (LFSN) will cover seven of Liberty's 2014 football contests, including three road games: Sept. 6 at Norfolk State, Sept. 27 at Indiana State and Nov. 1 at Presbyterian.
LFSN will provide coverage for four home games from Williams Stadium: Sept. 13 vs. Brevard, Sept. 20 vs. Bryant, Oct. 4 vs. Richmond and Nov. 15 vs. Charleston Southern. LFSN broadcast distribution network includes 70 million households in the country.
Mike Tilley returns for his 27th year of covering Liberty Athletics as a television play-by-play broadcaster for LFSN. He will joined in the booth this year by LFSN Game On anchor Matt Warner, who worked last spring with LFSN's baseball broadcasts.
LFSN can be viewed in the greater Lynchburg area on the Liberty Channel (WTLU), the flagship television station of the Liberty Flames Sports Network. LFSN airs Liberty football, men's and women's basketball and baseball games, as well as Liberty volleyball matches.
LFSN is also available on numerous regional and national networks around the country, giving Liberty Athletics one of the top FCS television networks in the country (see list for full network coverage).
LFSN football broadcasts will be available nationally on Dish Network's KTV (Channel 264), which will carry the games live. LFSN is still currently in negotiations with DirecTV regarding a broadcast time and channel for this year's football games. ESPN3 will also carry all seven LFSN broadcast productions on its streaming platform.
Liberty will have four games broadcast exclusively on ESPN3, beginning with the Flames' season-opener at North Carolina onAug. 30 through the ACC television package.
Additional Liberty games on ESPN3 include the Flames' contest at Appalachian State (Oct. 11) and Liberty's Big South matchups against Gardner-Webb (Oct. 25) and at Coastal Carolina (Nov. 22).
Finally, Liberty's home contest against Big South newcomer Monmouth on Nov. 8 will be a part of the Big South Conference's new television broadcast agreement with the American Sports Network (ASN).
Liberty's 2014 Football Television Coverage Breakdown
Liberty Flames Sports Network (LFSN) broadcasts:
Sept. 6 at Norfolk State
Sept. 13 vs. Brevard
Sept. 20 vs. Bryant
Sept. 27 at Indiana State
Oct. 4 vs. Richmond
Nov. 1 at Presbyterian
Nov. 15 vs. Charleston Southern
ESPN3 exclusive broadcasts:
Aug. 30 at North Carolina (through the ACC TV package)
Oct. 11 at Appalachian State (through the Sun Belt TV package)
Oct. 25 vs. Gardner-Webb (through the Big South TV package)
Nov. 22 at Coastal Carolina (through the Big South TV package)
American Sports Network (ASN) broadcast:
Nov. 8 vs. Monmouth (through the Big South TV package)