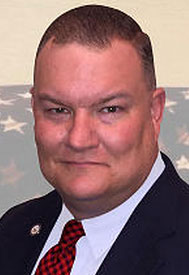 As veterans and residents of Augusta County, we have joined together to show our support for Derek Almarode.
We believe that Derek exemplifies the fundamental leadership skills that we all learned in our respective branches of service. Derek has worked in our community for 24 years and is highly respected. His work in volunteer organizations, community service, church, and law enforcement exemplifies his dedication and to our community and motivation to be our next Sheriff.
Derek shows genuine concern for people. Telling people you care is not enough, you must demonstrate that in order to earn trust and respect; Derek does this daily.
Derek is extremely knowledgeable and is an exceptional communicator. Communication is the key in leadership. True leaders must also know their capabilities and limitations and be able to delegate tasks according to their team's talents.
True leaders seek responsibility and take responsibility for their actions. Leading always involves responsibility.Before leaders can lead effectively, they must master these talents. We believe Derek is the most qualified candidate that has the skill-set necessary to lead the Sheriff's Department.
We are honored to know Derek and proud to support him for Sheriff.
N. Dean Purdue
James Perdue
Robert P. Jenkins
Alan W. Katz
Ed Clymore
Allen W. Quick
James E. Wilson
Billy D. Wade, Jr.
Robert S. Acord
Alice Wooddell
Stuart A. Hall
John G. Wooddell
Claude H. Smith
Bill Brubech
Robert W. Cook Jr.
Dr. John (Rob) Marsh, MD
Jerry W. Hearn
Lawrence Rodzinka
John Davis
Brian Lee