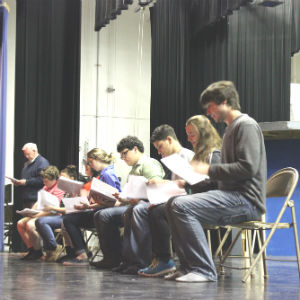 Article by Chelsea Church
The Addams Family will be coming to Staunton on March 20-22. You can catch them on Friday and Saturday night at 7:30 or on Sunday at 2:30 at Robert E. Lee High School.
The Lee High Drama cast is working very hard and is excited to perform an old-time favorite. With them practicing five to six days a week since the beginning of January, they should be more than ready to wow the crowd.
This musical is all about the madness that ensues when a "normal" family meets the Addams Family. Wednesday is grown up, has fallen in love and wants to get married. The only thing is, the boy she loves is normal and that causes a little bit of craziness to occur over a dinner with the two different families.
Before they dive into different characters, they start every practice with vocal warmups "to get their voices going." Sometimes they even play a popular game in the theater department called "Yeah, let's!" This allows the students to get more comfortable and fall into their characters in a fun way. Someone yells out a situation or person to act like and everyone else agrees and starts acting like that situation or person in their own way.
The cast shares a lot of laughs working together. From playing games to practicing a scene, it is always an interesting time. Melissa Maynard, Latin teacher at Robert E. Lee High School and director of the play, describes the funniest day of practice so far this year being when Lee High's principal, Dr. Mark Rowicki, showed up for his first day of practice as Lurch. The looks on the kids' faces and seeing how they work with their principal was really entertaining for her to see.
Maynard has directed Lee High plays for 14 years. She loves "working with students and watching them at the beginning of the process, where they're timid and shy, and watching them grow to the final performance and seeing their confidence, sense of humor, humility, and ability to dance." She also compares this play to the others she has directed in the past by saying "it's right in line with the size" and she thinks it is going to be a "big hit" and a "big success."
With the help of another Lee High faculty member, geometry and theater teacher, John Fergosi, they create theater magic. Lee has never had a play that involved theater magic, so it is really exciting to incorporate that into their story this year.
There are definitely some surprises, great dancing and laughs you do not want to miss. Save the date and buy your tickets to see The Addams Family in March.  The support is much appreciated and they cannot wait to see everyone there.