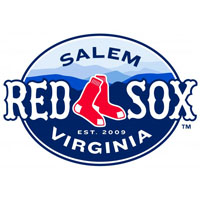 The Potomac Nationals (53-44, 15-13) utilized a pair of late solo home runs off the bats of C Pedro Severino and 3B Oscar Tejeda to cover the Salem Red Sox (45-52, 12-17) 3-2 in the series Game Two clash on Sunday afternoon on LewisGale Field inside Salem Memorial Ballpark.
With the triumph, the Nationals claimed their 14th series win and also improved their Carolina League-best record in one-run contests to (23-9).
Nationals starter, RHP Brian Rauh dealt 4.0 scoreless innings allowing just a single to Salem 3B Mario Martinez while fanning five and walking none.
Salem LHP Cody Kukuk pitched 5.0 frames in which he surrendered just one earned run on five base knocks. Kukuk walked one batter and struck out five.
Neither Rauh nor Kukuk received a decision in the contest.
The P-Nats pushed across the first run of the game in the opening inning after 2B Tony Renda ripped a single to right field, SS Stephen Perez knocked a single through the right side of the infield, and 1B Shawn Pleffner punched a 5-3 RBI groundout.
Potomac RHP Ronald Pena took the mound in the 5th and ran into trouble. Red Sox C Carson Blair gashed a double off the batter's eye in dead center field, Martinez walked, RF Aneury Tavarez fanned swinging, and 1B Matt Gedman dribbled a groundout in front of home plate to push Blair and Martinez into scoring position. Salem LF Nick Moore worked a walk to load the bases and Pena left due to undisclosed discomfort. Nationals RHP Richie Mirowski came in with the three inherited baserunners, and during the at-bat of CF Matty Johnson, unleashed a wild pitch to bring Blair to home plate and tie the game at 1-1. Mirowski went on to walk Johnson which reloaded the bags before 2B Carlos Asuaje struck out on a 3-2 fastball.
The Red Sox captured a 2-1 lead in the 7th against Mirowski via a run-scoring single sliced into left-center field off the lumber of Johnson to score Moore, who singled to get aboard.
Mirowski (BS 1) tossed 2.1 innings and allowed just that one earned run on four hits despite blowing his first save of the season.
Salem RHP Kyle Martin (3-4) (BS 3), the eventual losing pitcher, entered the game in the 8th and went on to blow his third save of the season after allowing a solo home run blast to Severino that just traveled over the yellow line on top of the stacked signage in left-center field. This four-bagger was Severino's sixth of the 2014 journey.
Nationals winning pitcher, LHP Jake Walsh (2-0) stranded a pair of Red Sox in the 8th inning to hang a zero.
In the top of the 9th inning with one out, Tejeda stepped up and cranked a long solo homer over everything in left field to propel the P-Nats to a 3-2 advantage. Tejeda also homered in Game One of this current road series in Salem, VA. Tejeda, a former Salem Red Sox infielder, now owns 14 longballs on the 2014 campaign.
Walsh turned in a perfect bottom of the 9th inning getting Gedman on a flyout to deep center field run down by CF Randolph Oduber before inducing a 6-3 groundout off the stick of Moore and striking out Johnson swinging to give the Nationals their 53rd win of the year.
With the P-Nats in search of their fifth series sweep of the 2014 campaign, a 7:05pm first pitch in the Game Three series finale on Monday evening will pit Nationals RHP Pedro Encarnacion (1-3, 5.95) against Salem LHP Corey Littrell (5-5, 3.77).
The Potomac Nationals Baseball Network, accessible by heading online to www.potomacnationals.com, will provide live broadcast coverage of the Game Three finale on Monday night in Salem, Virginia beginning with the P-Nats Leadoff Show at 6:50pm before the play-by-play at 7:05pm.