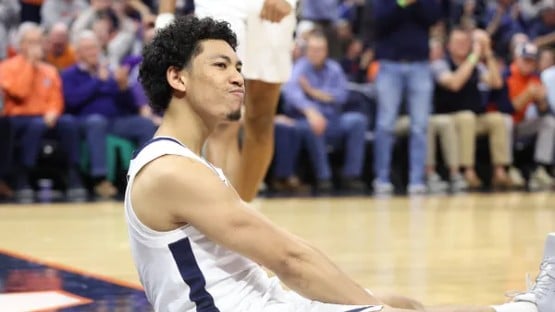 Remember how you were surprised to see 5'9" freshman guard Kihei Clark play 25 minutes in the Cavaliers' season opener way, way back in 2018?
Well, so was he.
"I didn't know I would be playing this many minutes at the start of the season," said Clark, who basically played starter's minutes in Virginia's 73-42 win over Towson, the first win toward the 35 that the Cavaliers would post that season, which would end with a win on an unforgettable Monday night in Minnesota.
"I wouldn't have expected this. I knew I wanted to come in and contribute right away," Clark told reporters after his first college game, which saw him score four points and dish out six assists. "I figured it out in a couple of the scrimmages, where I played quite a bit of minutes. So, I knew I might get the chance to play a lot. I was ready, and will be ready for whenever I'm called."
Clark's name would go on to be called an awful lot. He eventually worked his way into the starting lineup later in his freshman season, and though his counting numbers were modest – 4.5 points and 2.6 assists per game – he played 26.8 minutes per game, and had a knack for the big moment.
Clark hit big shots in the opening-round NCAA Tournament win over Gardner-Webb and the Sweet 16 win over Oregon, then saved the season with his rundown of a Ty Jerome missed free throw, and the whippet crosscourt pass to Mamadi Diakite for a buzzer-beater that sent the Elite Eight game with Purdue to OT, where the 'Hoos went on to the win.
The banner hanging in the rafters in JPJ isn't there without Clark, who will play the last of his 78 games in the building on Saturday, Senior Day, against Louisville.
Virginia has a 64-13 record at JPJ with Clark in uniform, seven of the losses coming last season, which ended with a 52-51 loss to St. Bonaventure in the NIT quarterfinals, a game that came down to Clark layup that was blocked as time expired.
Clark waited a few weeks after that game to announce that he was returning for a fifth season, granted to student-athletes whose 2019-2020 season was cut short by COVID pandemic shutdowns.
The announcement, oddly, was met with disapproval from a sizable segment of the UVA basketball fan base, folks I've come to term Kiheiters, the people who groan in the arena or on message boards every time Clark takes the ball into the paint, or gets backed down by a taller guard.
"I mean, you can't please everybody, right? So, I kind of just don't really worry about them, and just try to worry about what my team needs and what my coaching staff requires me to do. So, that's honestly all I'm worried about," Clark said in an interview on "The Jerry Ratcliffe Show" after announcing his return last spring.
Clark has heard the Kiheiters going back to the first time he checked in back in that season opener with Towson in 2018, the criticisms being that he's too short, that he gets too many shots blocked at the rim, that bigger guards can shoot over him.
It's all fuel to the fire that drove him from being having had just one D1 offer before Bennett threw out a lifeline to starting for the winning team in a national championship game as a freshman to breaking school and ACC records in the course of what has become a celebrated college career.
Basically, just tell this Kihei Clark kid that he can't do something, and he'll go out and do it, just to prove you wrong.
Clark attributes this mentality to his father, Malik, who played basketball at Hawaii-Hilo.
"From a young age, he always had me working on my defense, and he always told me I was going to be the shortest guy on the court, so just playing with a chip on my shoulder and knowing that, you know, there's always going to be people who doubt me in my abilities, but just trying to have the confidence in myself and doing whatever it takes to help my team win," said Clark, who knows after each game that he will have a series of texts from his father with praise and critiques on his play.
"Yeah, all the time, he'll be texting me during the game just so when I come back to my phone after the game, I have a long list of text messages, you missed a free throw, turnover, or something like that. So, he's always in my ear, and he's always offering advice for me, which I love," Clark said.
His mother, Sharon, was, when he started playing basketball, the one who "was always, like, don't get hurt, don't do this, watch out, be careful. But now she's the loudest one in the stands," Clark said. "She's always screaming in the stands, and I know her love and support for me is always at an all-time high. And I love her for that, and it means a lot to me that that she can come out and support me and just watch her firstborn play basketball."
The family has already been in town for one Senior Day, last year – Clark took part in case he decided to forego his fifth year.
You half-expect coaches from across the ACC to send him retirement gifts this time around, in part to recognize what Clark has done on the court the past five years, but more to express their relief that he's finally moving on.
It's highly unlikely that Clark will hear his name called in the NBA Draft this summer, but it's just as hard to imagine that at least there isn't at least one front office that will extend an invite to a training camp.
Don't be surprised, then, to see Clark out on an NBA floor next fall.
The way to guarantee it is to tell him that he can't do it. That's what seems to get the best out of Kihei Clark.