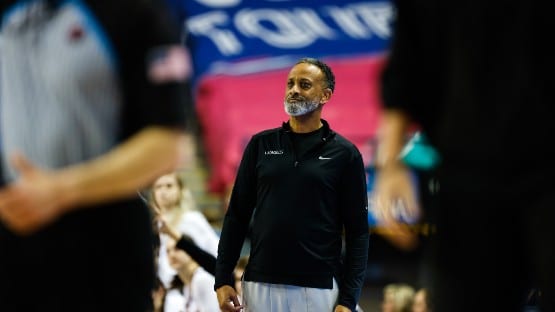 Virginia basketball fans have long dreamed of Dawn Staley coming home. There's another Final Four coach named Kenny Brooks that was waiting for a call that for some not good reason never came.
Yep, Brooks has a chip on his shoulder that UVA never called as he was racking up wins at his alma mater, James Madison, where his teams were 337-122 in his 14 seasons.
And who could blame him? The guy has done nothing but win, and yet it took forever for somebody at a Power 5 school to give him a shot.
"There's always doubt, because I would have been leaving, I was leaving, my alma mater, my home, a place where I grew up, a place that did so much for me in James Madison. But it got to the point where, I think my last three years, I saw a stat in the CAA, I was 60-3. Yeah, 60-3. And it was like, OK, it's time. It's time to not leave, but it's time to see what I can test my wits against the best.
"But going back to the opportunities part, I didn't get a lot of opportunities. I had schools right across the mountain that wouldn't call me," Brooks, a Waynesboro native, told reporters after the Hokies defeated Ohio State, 84-74, on Monday, a win that puts Virginia Tech in its first-ever Final Four.
Yeah, that hurts, doesn't it?
Virginia, which was too good to even pick up the phone and call Kenny Brooks, now has to watch him take his team to a Final Four.
Virginia, meanwhile, still hasn't been to a Final Four since Staley led the Cavaliers to the third of its three straight Final Fours in 1992.
The last time a UVA team won more than one game in an NCAA Tournament was way back in 2000.
The Virginia job came open in 2011 with the awkward forced exit of Debbie Ryan after a 19-16 finish.
Staley was, at the time, three years into her run at South Carolina, 42-48 overall there, but on the verge of a 25-win season in 2011-2012 that would be the gateway to what was to come for her there.
Brooks' JMU team was 26-8 in 2010-2011. His next five JMU teams would average 27.8 wins per year, before Whit Babcock, a JMU alum who is the athletics director at Virginia Tech, reached out to Brooks about the opening he had in women's basketball in 2016.
The program hadn't even been in an NCAA Tournament for a decade, and its history was highlighted by one Sweet 16 appearance, way back in 1999.
In some ways, what Brooks was leaving at JMU was better than he would be taking over at Virginia Tech.
"It was tough because my teams at James Madison were really good. The team I left at James Madison had a first-round WNBA draft pick. I came to Virginia Tech, and we had none of those. And we had to start all over again," Brooks said.
It took "a leap of faith," Brooks said, "a lot of hard work, a lot of coaches' efforts, kids, these kids up here really changed the culture. And it's funny, because when I talked at my presser when he hired me, I got a little overzealous, and it was right after when Syracuse went to the final game, and I said, If Syracuse can do it, well, why can't we. And it was great, people erupted, yeah, yeah, yeah, yeah. And I thought I stuck my foot in my mouth. But seven years later, here we are."
It wasn't a straight line from being hired to the Final Four. Brooks' first three Virginia Tech teams finished their seasons in the Women's NIT, though each won 20 or more games.
The 2019-2020 team, which finished 21-9, seemed to be on the verge of getting an NCAA Tournament berth, but that season was cut short by the COVID pandemic.
The program finally got back into the NCAAs in 2021, then made a repeat appearance after a 23-win season in 2022.
The goal heading into 2022-2023 was modest, in retrospect – Sweet 16.
But as the season played out, and Tech rolled through February into March, then won the ACC Tournament, on the way to earning a top seed in the regionals, the goal changed.
It wasn't just Final Four; it's winning the whole damn thing.
But first things first. It took seven long years to get Virginia Tech to where it is now.
"I don't know if you envision it or more if you dream it, and I think we were dreaming it," Brooks said. "Obviously, this is not easy. One day I'll sit back and realize how hard it was for us to get here and realize we're one of four teams still standing. So, I don't know if it was a vision, it was more of a dream, and now that dream's come true. And now we need to build upon it."