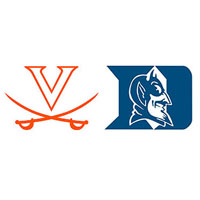 A 3-yard touchdown pass from backup Thomas Sirk to tight end David Reeves broke a fourth-quarter stalemate and lifted Duke to a 20-13 win over UVA on Saturday at Wallace Wade Stadium in Durham, N.C.
The Blue Devils (6-1, 2-1 ACC) had punted on its previous three second-half drives as the Cavs came back from an early 10-0 deficit to tie the game at 13 on a 30-yard field goal by Ian Frye with 7:11 left in the third.
The teams traded punts for six straight possessions into the fourth, when Duke took over at its own 35 with 10:26 to go. A pair of Shaquille Powell rushes gave Duke first downs in Virginia territory, and then quarterback Anthony Boone broke off the play of the game, a 23-yard run to the UVA 7.
Two plays later, Sirk connected with Reeves on a play-action jump pass to give Duke the lead.
Virginia (4-3, 2-1 ACC) drove into Duke territory on its final drive, but a fourth-and-12 pass from the 40 from Johns in the direction of Case Severin was incomplete with 2:14 to go.
The 'Hoos outgained Duke 465-334. Johns threw for 304 yards on 21-of-44 passing with one touchdown. Miles Gooch had six catches for 129 yards for the 'Hoos, and kevin parks had 75 yards on 16 carries.
Boone was 22-of-37 passing for 176 yards for Duke, which climbs into a three-way tie atop the ACC Coastal Division with Virginia and Pitt.
Duke scored on its first possession, on a 1-yard TD pass from Boone to Eric Schneider at the 9:37 mark of the first quarter. A Ross Martin 19-yard field goal at the 12:24 mark of the second quarter made it 10-0 Duke. UVA finally got on the board on its next drive, on a 5-yard TD pass from Johns to Khalek Shepherd, and tied the game on the final play of the first half on a 21-yard field goal by Frye.
Duke has now won six of the last seven in the series, including three in a row.