Summertime is prime time for auto theft, which is why the Virginia State Police Help Eliminate Auto Theft (HEAT) program is reminding motorists to secure their unattended vehicles.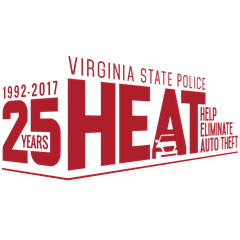 Of the 9,575 motor vehicle theft offenses in 2016, 3,523 occurred between June and September. For the calendar year, August had the dubious distinction of leading all months with 957 auto theft offenses. July had the second-most offenses with 924. A total of 9,719 motor vehicles were reported stolen in 2016.
First Sgt. Steve Hall, Virginia State Police Help Eliminate Auto Theft (HEAT) program coordinator, said many auto thefts could be avoided if motorists would simply take their keys. Statistics show that nearly one in four vehicles stolen in Virginia have the keys inside.
"That's a problem," Hall said. "In addition to taking your keys when you leave your vehicle, don't leave spare keys in the glove box or elsewhere on the vehicle. Always lock the doors and always close the windows. At night, choose parking spots that are in well-lit and high-traffic areas if you can."
Drivers should develop good habits and avoid complacency, Hall said, because auto thieves can take a vehicle in just a matter of moments.
"A lot of people think, 'I'll only be in the store for a minute, so I'll just leave the car running,' " he said. "Don't do it. It takes very little time for someone in that situation to jump into your car and drive off."
Want to beat the summer heat without leaving your vehicle completely vulnerable? Try parking in a garage or shaded area when possible. If no shade is available when parking, block direct sunlight by putting a visor in your windshield or drape a blanket or towel over the dashboard and steering wheel.
"Or give yourself a few extra minutes before your departure so you can stay with your vehicle while you run your air conditioner," Hall said. "Any of these is a better alternative to potentially having your car stolen."
Follow HEAT on Facebook (@HEATreward) for summer giveaways and auto theft prevention tips. Upcoming HEAT appearances include a display at AAA's Summer Car Care Event in Henrico on July 29, and Vehicle Identification Number (VIN) etchings on July 15 (Roanoke); July 29 (Martinsville and Midlothian). Learn more about the HEAT program and VIN-etching events at HEATreward.com.