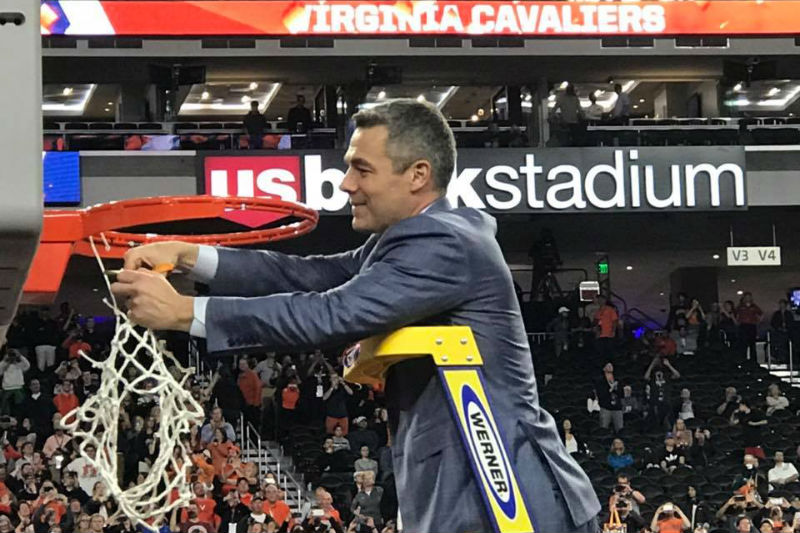 MINNEAPOLIS — In a cramped locker room in Orlando over two years ago, the Virginia Cavaliers sat dejected and embarrassed, a pool of sweat and offensive misery. Virginia had just lost to Florida 65-39. The run was over for a team that was very much in a transition after losing ACC Player of the Year Malcolm Brogdon and several other standouts from the year before.
But that didn't make this ending any easier. London Perrantes, Virginia's all-time leader in career starts, sat on the bench with tears in his eyes. A magnificent four years had ended with a thud. But as he saw an end for himself, he also saw a beginning for the two youngsters, Ty Jerome and Kyle Guy, learning behind him.
"They're going to have to come back, and if they want to get to that next level, you've got to take this feeling and put the fuels to the fire and get back to work during the summer, during the off-season, so they don't have this feeling again," Perrantes said.
"I know they'll be back."
In Chapter 9 of The Greatest Salesman in the World, Og Mandino wrote, "I will love the light for it shows me the way; yet I will love the darkness for it shows me the stars."
In that moment, Virginia was in the dark.
"It's heartbreaking to see London cry," Guy said.
But in that darkness, stars glimmered, even if just faintly. As true freshmen, Jerome and Guy had shown promising signs of becoming top talent in one of the nation's top leagues. Mamadi Diakite, a redshirt freshman, scored a team-high nine points and grabbed six rebounds against the Gators. Jack Salt, then a redshirt sophomore, had eight points and a team-best 10 rebounds.
"Those young guys, Ty and Kyle and Mamadi, as first years, [got] invaluable experiences to play in the ACC and get the amount of minutes they did and the opportunities to get in the NCAA Tournament, ACC Tournament," Tony Bennett said. "That's important. It should sting, and that will push those guys to work."
And work they did. That offseason, Guy lost his man bun and added muscle to make him a better scorer inside the three-point arc. Jerome got quicker and stronger in his first college offseason, having missed much of the previous one due to double hip surgery he underwent as a high-school senior. Diakite continued to grow into a game that was still so new to him. And quietly, a storm was brewing in the background in the form of De'Andre Hunter and Jay Huff, both of whom had redshirted that year.
One may think Virginia's redemption story — their 38-game journey through the 2018-2019 season that ended with a 85-77 national championship triumph Monday night  — started after the shocking loss to UMBC last March. In reality, it started in that locker room in Orlando.
***
Something else happened that offseason, though — something much bigger than basketball, much more damaging than any unsightly scoreline. A Klu Klux Klan-organized "Unite The Right" rally came through Charlottesville in August 2017. Three people died. Nearly 40 suffered non-fatal injuries. It was the darkest time for the city the Cavaliers called home, a darkness that, in that moment, had no stars. The Cavaliers would have to create them by themselves.
"We came back in the locker room and said, 'How can we fight against that?'" Diakite said Sunday. "We're just gonna play hard and lift everyone up and show that the city has more than what people think."
The Cavaliers played hard and played well. They won 23 of their first 24 games, and 18 of those wins came by double digits. They swept Duke and UNC. They reached the top of the AP Poll for the first time in 36 years. They won the ACC regular-season and tournament titles. They earned the No. 1 overall seed in the NCAA Tournament.
They lost to the 16-seed University of Maryland – Baltimore County Retrievers when they got there.
There's a long list of things that went wrong. Hunter and Huff got hurt days before the game. The Cavaliers' normally stout defense got shredded, their normally efficient offense fell off the tracks. They had no answers. Guy openly wept on the court. Tears filled the eyes of Isaiah Wilkins. Jerome, one of the team's more emotional players, was too distraught for emotion, monotonously answering post-game questions with a blank stare.
The task for Bennett, after yet another March disappointment, proved one of his toughest.
"[I was] trying to tell the guys in there, 'This is life — it can't define you,'" Bennett said. "You enjoy the good times, and you gotta be able to take the bad times.
"The adulation, the praise, it comes, and we got a lot of that this year. Then on the other side, there'll be blame and people pointing that out. That can't, in the end, define these guys and our team."
Perhaps what he was looking for was the words he spoke in 2016, when his Cavaliers lost a double-digit second-half lead against Syracuse in the Elite Eight: "Weeping may endure for the night, but joy comes in the morning."
Guy and Jerome had to take to the post-game media stage to answer questions, a cruel final twist to a nightmarish night.
"One thing this team is really good at and built on is resiliency," Guy said last year. "I think bouncing back from something that's so heartbreaking will be a huge key for us."
Even through the puffy eyes and the sorrow-soaked words, Guy tried to find the joy — to see the stars. Months later, at ACC Media days in the same site his season had ended, he found them.
"I think for me, it's never forgetting it, but definitely trying to move past it to where I'm not hanging my head on it," Guy said. "I think it's taken me a little bit longer than some of the other guys, but that's just because I'm an emotional kid, and I'm real passionate about things. That cut me real deep.
"But coach said something last night when we were meeting with him and Jack, and he said that, you know, courage is not the absence of fear; it's moving forward in the face of fear, and I think that's something that I'm going to hold onto for the rest of my life."
Perhaps this team was able to move forward because they were motivated by the embarrassment, fueled to make a deeper run with the core still intact and, after all, coming off a terrific season.
Or maybe having experienced what had happened in their city the previous summer helped them put things in perspective.
"Let's clarify something," Bennett said Sunday. "I've been through the worst, basketball-wise, okay? Let's keep this in perspective."
***
Virginia, until last year, had been synonymous with March disappointment because they had not broken through. But they had never gone through something like the UMBC loss. For a second straight year, the Cavaliers had to push themselves even harder. Jerome met with Bennett three days after the loss to discuss offensive changes. Guy opened up about his issues with anxiety. Hunter returned to school because he thought his team could do bigger and better things with him healthy.
The team adopted the motto "United Pursuit." If they were to weep together, they were to find joy together. If they were to go through the darkness together, they were to emerge into the light together. Bennett is a diligent and studious man, always searching for a new quotes, new philosophies and new ideas. The one he settled on this year was simple: "The joy is in the competition."
As the Cavaliers climbed toward the light, they embraced that competition. Bennett took the team whitewater rafting in West Virginia and hosted a mini-golf tournament the night before the team hit the water. He added card games, Jenga and contests of "Name That Tune" to the gameday schedule. He made things fun.
"We've been doing so many team-bonding activities since my first year here, and this group is as close of a team I've ever been on in my whole life," Jerome said Sunday. "And that's what makes it so special."
The Cavaliers stayed undefeated longer than any other team in the nation. They won an ACC-record five road games over AP Top-25 teams. Joy came, morning after morning. After a great road win against UNC. After a sweep of in-state rival Virginia Tech. After clinching a share of the ACC regular-season title and the ACC Tournament top seed with a Senior Day win over Louisville.
And when the Cavaliers lost, they found the stars that didn't make the darkness quite so bad.
"It's going to be painful not to play tomorrow, but I remember we cut down the nets in the ACC Tournament last year, and we didn't like the way our season ended," Jerome said after losing to Florida St. in the ACC Tournament semifinal . "So this isn't the end all, be all by any means."
In fact, it was just a beginning.
***
Eager to put last year's disaster behind them, the Cavaliers were making another one, trailing Gardner-Webb by as much as 14 in the first half and by six at halftime. Last year, they would have panicked. This year they did anything but.
"It was a different halftime than last time," Bennett said. "It was one thing I said to my staff, and we just talked right before we went in there. I said, uplift them, and we talked about don't panic, but play with fight, because that's what got them back in."
They won 71-55 then grinded out a 63-51 win over Oklahoma. The Sooners, who had scored 95 points two days earlier, were stifled from start to finish.
"They're so sound defensively," Oklahoma head coach Lon Kruger said. "Communication-wise, they're great. Coach Bennett does a fantastic job."
In Louisville, the Cavaliers pulled out a low-scoring 53-47 win over upstart Oregon and then toppled Carsen Edwards and Purdue in a thrilling 80-75 overtime contest. The Cavaliers forced overtime on the "Mamadi Miracle" — Diakite's floater at the buzzer — and put the Boilermakers away in overtime.
In Minneapolis, they squeezed by Auburn, 63-62, in controversial and, for the second time in two games, razor-thin fashion.
"I don't know about karma and destiny," Diakite said, smiling wide, Sunday. "I believe in God, but I don't know about that. What I know is, no matter how much you fail, if you get up and keep fighting, you can have good results. That's what we're trying to prove to everyone. It doesn't matter if you lose against a 16 seed or whoever. Just keep doing you. Keep fighting. Come back again. Try again."
***
They came back again Monday night for more. The opponent this time was Texas Tech, which boasted arguably the best defense college basketball has ever seen. Virginia scored 85 points on 70 possessions Monday, by far the highest rate the Red Raiders allowed all season.
They did it led by Hunter, who couldn't even play against UMBC, much less score a career-high 27 points, as he did Monday night. Twenty-two came after halftime, and none were bigger than the three he bagged on a corner jumper with 12.9 seconds to go in regulation that tied things at 68.
The ball swished through the net with such certainty — Hunter made all three of his three-pointers in the second half, after all — that it's hard to believe the redshirt sophomore was completely lost in the moments leading up to it.
"[Coach] was just telling me the play that we were running, because I don't think I knew it," Hunter said of what happened as he ran to the corner. "He was just relaying the play to me. And, yeah, that's about it."
It was a play Virginia had run before, with Jerome driving with his left hand. Often Monday night, he had put up a floater. This time, with the defense rotating in expectation of his shot, he delivered a pinpoint pass to the corner.
It's the same corner from which Guy hit a three two nights earlier to draw Virginia to within one against Auburn. Guy, the Final Four Most Outstanding Player, was also terrific Monday night with 24 points of his own. And of course Jerome, the passer on both of those season-saving threes, was terrific with 16 points, eight assists and six rebounds as well as just one turnover against a Red Raiders team that is outstanding at forcing them.
"They're really good players," Bennett said Monday. "They don't probably get enough credit — well, I think some of them do for their talent — but they had something different about them collectively."
That "something different" brought Virginia its first national championship.
***
There's a picture that hangs in Tony Bennett's home that he looks at and reflects upon often. It's of his 2016 recruiting class, the one that helped the Cavaliers conquer the Final Four-sized mountain that the program hadn't been able to get over in 35 years.
It's of Jerome, the skinny kid with New York swag, not yet the emotional, fiercely competitive floor general who would come to make big shot after big shot for the Cavaliers.
It's of Guy, the wide-grinning standout recruit from Indianapolis, not yet hated in every ACC arena he'd visit, not yet brought to his knees by a historic loss, not yet redeemed by a historic run.
It's of Huff, the gentle giant with, according to him, "bad hat hair — it was a bad look," not yet the three-point-shooting, tomahawk-dunking, shot-blocking dynamic talent who had to grow into his body and his team's defensive system to see the floor.
It's of Hunter, the quiet Philadelphia kid who joined the class late and had to wait out a redshirt year before he could make an impact, not yet the projected NBA lottery pick who proved a nightmare for opposing defenses and had the performance of his life when Virginia needed it most.
"We talked about this, all four of us, we talked about winning a national championship," Hunter said Monday. "We talked about how crazy it would be if we were the first people to do it.
"Right now, it's just a dream come true. We dreamt about it, and it happened."
It's a picture that's been there through the worst of times and remains there in the best of times, just like the people in the frame.
"When your guys play the right way, the collectiveness of it takes over, and I've watched it and stepped back, and I've seen them mature through everything," Bennett said. "For them to do what they did and how they've won, it's a great story. It really is."
Soon, that picture will be joined by others. The new pictures, too, will feature smiling faces — not of recruits but of NCAA college basketball champions.
The Cavaliers endured the darkness and the weeping. The light and the joy arrived on Monday night, and it will continue for morning after morning to come.
Story by Zach Pereles