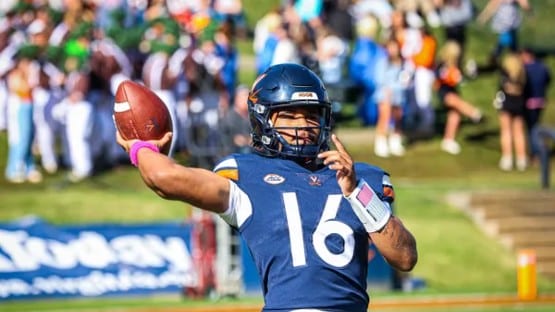 UVA, like it or not, has its starting quarterback set, with the news today that the backup QB for the past two years, Jay Woolfolk, is giving up football to focus on his promising baseball career.
"Coach Elliott has done so much for me starting with his first day on Grounds," Woolfolk said in a statement released to the media on Thursday by Virginia Athletics. "His ways of teaching how, not only to be a player, but how to be a man, will always stick with me. It's been an amazing year with him. I've reached a point where at this time it's best for me to focus on my future in the sport of baseball."
The news that Woolfolk, a projected as a second- or third-round pick in the 2024 MLB Draft, is stepping away from football to focus on getting ready for the MLB Draft next summer is not at all a surprise.
With the football team on Grounds for summer workouts for the past month, Woolfolk just wrapped up a summer with the USA Baseball Collegiate National Team, putting up a 1.35 ERA in 6.2 innings, allowing one run on three hits in six appearances, with eight strikeouts and two walks.
In two seasons as a back-of-the-bullpen reliever for the Virginia baseball team, Woolfolk is 5-1 with a 2.89 ERA, with 93 strikeouts and 40 walks in 71.2 innings.
Woolfolk noticeably didn't get much run in the 2023 postseason, pitching to only seven batters in UVA's eight-game run to the College World Series. Virginia baseball coach Brian O'Connor, after the CWS, in which Woolfolk was used to get a total of three outs at the end of the Cavaliers' two one-run losses, attributed Woolfolk's limited availability to his reliever's split responsibilities in the spring.
"This is the first year that he was required to go to football practice all spring, and I'm sure that took a toll on him a little bit," O'Connor told reporters in Omaha after Virginia's 4-3 loss to TCU that eliminated the 'Hoos from the College World Series.
Woolfolk participated in spring practice in limited live drills, with head coach Tony Elliott and offensive coordinator Des Kitchings keeping Woolfolk on a strict so-called "pitch count," and Woolfolk got more time in practice getting mental reps, basically standing behind the live action, getting play calls given to the QB in the live drill, and reading defenses and running through his pass options as if he were the guy behind center.
Woolfolk was the primary backup the past two seasons to QB1 Brennan Armstrong, who transferred in the offseason to North Carolina State, reuniting there with former UVA offensive coordinator Robert Anae.
Woolfolk got one start in his two seasons with the football program, filling in for Armstrong in 2021 after Armstrong went down to injury in a loss at BYU, completing 18 of his 33 pass attempts for 196 yards, with two interceptions, in a 28-3 loss to then-#7 Notre Dame.
"It's been a been a pleasure and an honor to work with Jay over the last year and a half from a football perspective," Elliott said in a statement included in the Virginia Athletics press release. "He's an extremely talented young man with a skill set in both sports. At this point in his career, he believes he needs to make a decision long term, and unfortunately for us, it's not going to involve football. I fully support and respect his decision. He desires to go chase that dream and play Major League Baseball, and I don't fault him for it."
The absence of Woolfolk leaves Elliott in a bit of a bind. Tony Muskett, a transfer from Monmouth, a mid-tier FCS program, would seem to be the prohibitive favorite to win the QB1 job, but there's not a lot of depth behind him on the depth chart.
True freshman Anthony Colandrea looked good in the spring game, completing 18 of his 29 pass attempts for 218 yards, one TD and one INT, a late-game pick-six, but as a true freshman, he's obviously green.
Behind Colandrea, there are guys in the QB room who have been around for a while – Jared Rayman, a fifth-year player, and sophomores Grady Brosterhous, Delaney Crawford and Davis Lane – but none would have been expected to compete for the backup role if Woolfolk were still around.
"I know his teammates are going to be excited, but also disappointed a little bit, because we were looking forward to what he was going to bring to Virginia football," Elliott said. "In the end, when a young man has been thoughtful about the process, when he's done everything the right way, you can do nothing but support him."