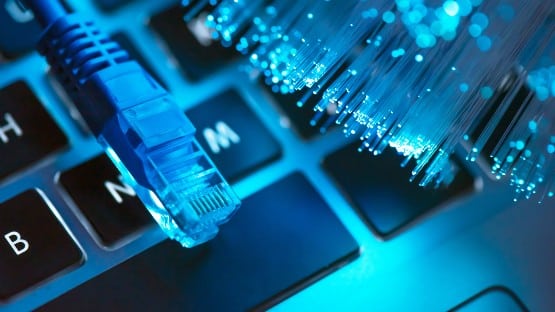 Nearly $50 million in investments to four organizations will expand middle mile high-speed internet infrastructure in Virginia, New Hampshire, Tennessee and Wyoming.
Middle mile Internet infrastructure carries large amounts of data over long distances, increases capacity to local networks, boosts network resiliency, lowers the cost of bringing high-speed Internet service to unconnected households, and helps connect unserved regions to the Internet backbone.
"In our 21st century economy, internet is no longer a luxury but a necessity," Congresswoman Jennifer McClellan of Virginia said. "Thanks to the leadership of the Biden-Harris Administration and congressional Democrats' passage of the Infrastructure Investment and Jobs Act, Americans in historically unserved and underserved communities are gaining access to reliable, affordable high-speed internet. Over $16 million dollars in federal funding will expand broadband deployment to thirteen localities across our Commonwealth, including several in Virginia's Fourth. This funding will make a meaningful difference in the lives of residents across Virginia."
McClellan (VA-04) celebrated the investment announcement earlier this month with the Department of Commerce's National Telecommunications and Information Administration (NTIA), Sens. Jeanne Shaheen and Maggie Hassan of New Hampshire, and Congresswoman Annie Kuster of New Hampshire to expand internet access and lower-costs for American families.
"Middle mile networks are the interstate highways of the Internet, carrying large amounts of data at high speeds to connect entire communities," said Assistant Secretary of Commerce for Communication and Information Alan Davidson. "These final awards complete the Biden Administration's nearly $1 billion investment in regional Internet networks that will help us bring affordable, reliable high-speed Internet connection to everyone in America."
In Virginia, the Mid-Atlantic Broadband Communities Corporation will receive $13,395,565.20 to construct approximately 130 miles of new fiber across eight segments to enable open-access middle mile connectivity and enhance grant funds for local ISPs and existing carriers.
Descriptions of the eight segments:
In the South Hill to Kenbridge segment, the route will improve the fiber route diversity and capacity that supports the marketability and feasibility of the Kenbridge Commerce Center site in Lunenburg County and the critical growth of a high-tech data center operation in Mecklenburg County.
In the Blackstone to 1-85 McKenney segment, the route will support additional broadband capabilities at Fort Pickett for rapidly mobilized national security operations in the future and the current and expanding Federal and private contractor workforce personnel.
In the Dinwiddie to Prince George segment, the route directly supports economic development, workforce development, and quality of life of the residents of Dinwiddie County, Prince George County, and the City of Petersburg. This critical route enables industrial, business, education, and biotech/pharmaceutical clusters robust diverse fiber connectivity and will take on the challenge of constructing this fiber segment with over six (6) railroad crossings.
The MAMaC to Greensville County segment directly supports economic development in Greensville County by providing diverse fiber to enhance the marketability of the 1,600 acres, CSX Certified, MaMaC Megasite in Greensville County.
The Farmville to Heartland Innovation Technology Park segment will directly support economic development by building new diverse fiber to the recently established Heartland Innovative Technology Park.
The Sussex Mega Site segment will create middle mile fiber diversity and enhance the 595-acre Sussex Mega Site.