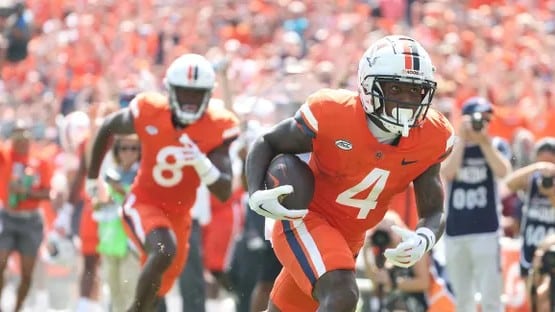 The two top receivers in the ACC through three weeks are Virginia's duo of Malachi Fields and Malik Washington.
Fields, a junior, has 19 catches for 207 yards through three games; Washington, a grad transfer, has 18 catches that have gained 289 yards, with one catch going for a TD.
"Yeah, so somebody mentioned that to me today, not today but this week, about where they were in the ACC," UVA coach Tony Elliott told reporters in his Tuesday presser. "I'm really not a stat guy other than when I look at the end of the game stats to kind of see how we compared, it's a long stretch until the end of the season. All you care about is being there at the end of the season. But week to week you've got to produce.
"I'm happy for those guys. I think they've worked hard to be able to go to another level, and then the challenge for them, you've got to be consistent. It's week in and week out for 12 weeks," Elliott said.
It's not hurting the duo in terms of productivity that they're getting targeted a lot – Fields 30 times, Washington 27.
The 57 combined targets represents 67.1 percent of the pass attempts from QBs Anthony Colandrea and Tony Muskett through three games.
Those totals put them both in the top 30 nationally in targets – one of three duos getting that amount of run, with Vanderbilt's Will Sheppard (38) and Jayden McGowan (33) and Colorado's Jimmy Horn Jr. and Xavier Weaver (both at 32).
The other duos are seeing a bit more in terms of productivity – Sheppard and McGowan at Vandy have 48 catches on their 71 targets, with Sheppard accounting for six TDs so far this season; Horn and Weaver have 51 catches on 64 targets, with Weaver gaining 386 yards through the air through three games.
Fields and Washington have combined for one TD catch, and there have been three INTs on passes in their direction, and the QB ratings for passes in their direction are modest – Washington targets have earned Virginia QBs an 83.7 NFL passer rating; Fields targets have merited a 69.7 rating.
No other UVA offensive player, through three games, has more than six targets – tailback Kobe Pace (five catches, including two TD catches, on six targets out of the backfield).
The tight ends – Grant Misch and Sackett Wood Jr. – are barely getting looks. On 105 combined pass snaps, Misch and Wood have been targeted a total of three times, with the result of those targets being a single 4-yard catch by Misch.