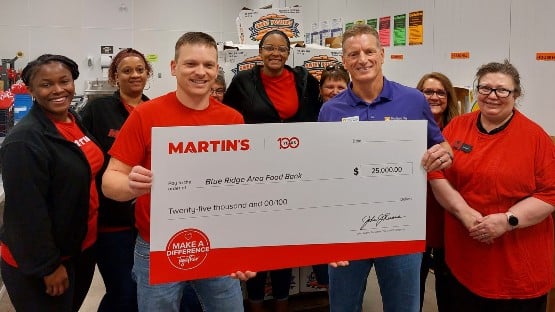 Martin's/the Giant Co. donated $25,000 to support the Blue Ridge Area Food Bank's efforts to eliminate hunger in local communities.
September is Hunger Action Month®. The company's donation will provide 100,000 meals.
"We believe everyone should have access to food," said Staunton Martin's Store Manager Steve Shiflett, "which is why we are so proud to donate the $25,000 to support the Blue Ridge Area Food Bank in honor of Hunger Action Month. And it's just important for us to make sure our community has what they need to thrive."
Shiflett thanked the food bank's partners, and Martin's team members for volunteering their time.
"Together we are connecting families for a better future," Shiflett said.
Martin's team members spent an afternoon volunteering at BRAFB to support the fight against hunger. The volunteers helped pack sweet potatoes, which will go right back into the community via food bank partners and programs.
The food bank and its more than 400 partners and programs are seeing higher demand, on average, than before the pandemic.
In September, community members in the food bank's service area are encouraged to volunteer, listen, act and invite others to speak up about ways to end hunger.
Donate: Every $1 can help provide four meals to those experiencing hunger.
Volunteer: The Food Bank and its network of partner food pantries rely on volunteers to serve the 127,500 neighbors seeking food assistance each month.
Advocate: Simply getting the word out about how big hunger is in our community can be remarkably powerful. This year, you can advocate for a strong 2023 Farm Bill.