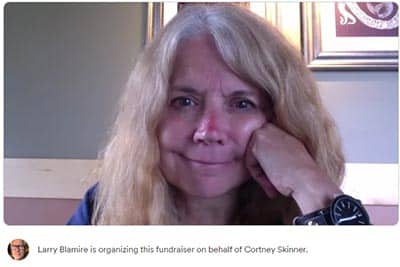 If you are fortunate enough to know Beth Massie or blessed to call her a friend, you know that her normally upbeat social media page took a small detour in the past few months.
As a friend, we're reading less about her almost daily trips to Starbucks for a chai, geocaching or R&R trips to the beach – and seeing more messages of resilience.
"Hold on to hope."
"Slow down."
"Don't worry, you'll make it."
"You are stronger than you think."
"Everything will be OK."
"Breathe. This too shall pass."
In late July, her friends finally learned why.
Beth wrote on her social media page that she had been diagnosed with non-Hodgkins lymphoma, a type of blood cancer.
She said the doctors were optimistic – and so was she.
Over the months to come, she said, she'd be having chemotherapy and radiation.
And she said she planned to continue to work as much as possible.
As you'd guess though, for Beth, and her husband, Cortney Skinner, Augusta County residents, the treatments are taking their toll – on Beth, as she is more tired than usual from the treatments, and on Cort, who is serving as caregiver.
Their friend, Larry Blamire, set up a GoFundMe to benefit them during this time when medical bills are piling up – and finding time and energy to write or create art is proving challenging.
"They remain hopeful," Blamire wrote. "These are two of the nicest people I know, and I'm asking if you can help with any amount you can spare."
Because of all of her accolades, Augusta Free Press has easily written 20 or more stories about her over the years – following her career from Shenandoah Moon to the Showtime series "The Tudors." She even had a closeup in the movie "Evan Almighty," even though most extras only earned $68 a day, and if my memory serves me right, she had a brief cameo dancing in the closing credits.
Massie has given a ton to this community over the years – giving money to random strangers though Hand to Hand Vision, knitting scarves and hats and donating to the effort or giving them away to friends or those in need.
Many of you may remember her as a local middle school teacher. I was in her Future Problemsolvers of America class. She eventually gave up teaching to become a struggling artist – finding success writing in the horror and historical fiction genres. But as many of you know, even an award-winning writer (Bram Stoker and Scribe) only gets a small amount of the profits from sales, and the creative pursuit has certainly not made her rich.
It's never easy to ask for help, and we're not sure they were going to. A friend stepped up to help make these difficult times a little easier for a couple that certainly deserve to fight this without worrying if they can make ends meet on a daily basis.
So we pitched in, and we encourage those that know Beth and Cort – or know of their impact on this community – to consider a gift of any amount.
We hope that all of the gifts will add up to make life a little easier for her, for them both, to help with a little extra self care during this time – extra rest, fuzzy socks, a chai from Starbucks or even a short getaway to watch the ocean waves.
Another Facebook post: "You are loved. Never forget that."
Those who know Beth and Cort certainly love them both – and are showing them, through a donation or social media share.
To date, the GoFundMe is a little over a third of the way to the $45,000 goal.
To give, visit https://www.gofundme.com/f/horror-writer-elizabeth-massie-needs-our-help