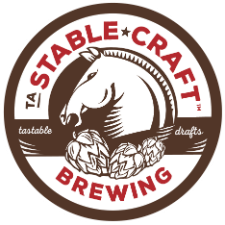 Ta Stable Craft Brewing has immediate openings for Tasting Room Servers at its new Augusta County-based craft brewery.
Download employment application (PDF): click here
Submit completed application to 

[email protected]
Help Wanted: Tasting Room Servers
Part-time to Full-time (as necessary)
Description of Responsibilities
This position reports to the Tasting Room Manager, may have responsibilities and job tasks assigned by owners (Beer Ambassador and Head Brewer). The ideal candidate will be an energetic, friendly, motivated, outgoing and a hardworking individual who takes initiative. Candidates must be able to commit to 8 four hour training/orientation sessions prior to the tasting room's opening. Day to day responsibilities will include serving Stable Craft beers in the tasting room, following state law, and being able to answer questions and make recommendations regarding our beer selection. This position will need to have a strong love for craft beer and a desire to continuously grow and learn, and a passion for craft beer culture and
be willing to represent it. It will require an individual to know our beers inside and out.
Servers will be expected to work weekends and holidays as needed.
Display a sense of urgency, have a self-starting personality, and demonstrate attention to detail
Have a positive and professional attitude with our crew and our guests
Sell Stable Craft merchandise and Farm Brewery Drinking Club memberships.
Be willing to be trained on the art and science of craft brewing and craft beers.
Record drink orders accurately and immediately into the Point of Sale system.
Fill and sell growler orders; accept guest payment, process credit card charges and make change, if applicable.
Clean/sterilize bar area and glassware; clear and reset tables and clean bathrooms in tasting room
Maintain cleanliness in all areas of the bar including counters, sinks, utensils, shelves and storage areas.
Assist the restocking and replenishment of inventory and supplies.
Report all equipment problems and bar maintenance issues to manager.
Be familiar with promotions, sales and assist with special events.
Complete opening and closing duties under the direction of owners and managers.
Demonstrate the ability to interact with the public and coworkers in a friendly, enthusiastic and outgoing manner.
About Ta Stable Craft Brewing
Hermitage Hill Farm & Stables, one of the Shenandoah Valley's most unique and popular wedding and event venues, is about to add a brand new dimension to its operations by opening a destination brewery and farm store, Ta Stable Craft Brewing.
The farm's unparalleled success with weddings and events created the desire to expand into other arenas and a farm brewery was a natural fit. The vision to create more than fine brews was important, experiencing a farm brewery is part of the mission. Stable Craft Brewing pledges to bring you, a fine array of taStable beers and an enjoyable farm experience.