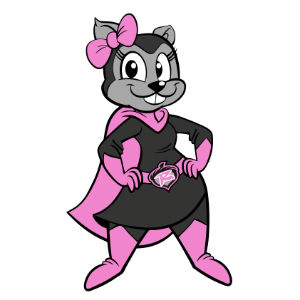 The Richmond Flying Squirrels unveiled a brand new mascot during Nutzy's Block Party and Fan Fest on Saturday afternoon at The Diamond.
The new mascot is a female superhero squirrel with pink accessories including a cape as well as a bow over her right ear (click for rendering) . The new mascot will make her Squirrels debut along with Nutzy and NFL Hall of Famer Jerome Bettis on Opening Night April 14th.
In the meantime, the new mascot needs a name and the Squirrels, along with the Richmond Times-Dispatch, are asking for help from fans. Starting on "Super Tuesday," March 1st fans can vote on five selected names through an online poll. Fans who vote will be entered to win a special visit with the new mascot as well as a Squirrels & RTD prize pack. Voting ends on March 15th.
Individual and Season Tickets are now on sale online, over the phone and at The Diamond box office.
"We have had suggestions for an additional mascot to hang out with Nutzy for the last couple of years and we felt like this was a good time to give Nutzy some help as the face and funn of the franchise," said Flying Squirrels VP & COO Todd "Parney" Parnell. "We look forward to both of them having continued long term impact in the region."
The new mascot will join the always-popular Nutzy to enhance the Squirrels' in-game entertainment at The Diamond. She will also assist the Squirrels by participating in some of the 600 annual community mascot appearances the Flying Squirrels are involved with throughout the year. In other Squirrels-related mascot news, both Captain Arrrr Va and Victor the Viking will be retiring prior to the start of the 2016 season. The pair of mascots were added to the entertainment in 2013.
The Flying Squirrels 2016 home schedule begins April 14th at 6:35 PM against the Altoona Curve. Season tickets, mini plans and group packages are currently available by contacting the box office at 804-359-FUNN or online at www.squirrelsbaseball.com. The Squirrels will be the visiting team at The Diamond for Homerun Weekend from April 7th-9th for a three-day, four-game series against the Hartford Yard Goats due to uncertainty surrounding the Hartford ballpark opening date. April 7th will be the first game in Hartford Yard Goats history.